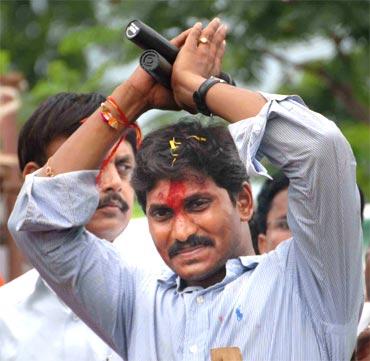 Vicky Nanjappa goes on the campaign trail with YSR Congress chief Jaganmohan Reddy in Srikakulam district.

In the first of a three-part series, rediff.com analyses how Jagan is a success story so far.
It is 40 degrees in Andhra Pradesh and Jaganmohan Reddy could not have asked for a better symbol for his YSR Congress Party. The ceiling fan, which is the symbol of the YSR Congress party, is everywhere in the state especially in the Seema-Andhra region where Jagan continues to dish out one road show after another.
This is a major election for Jaganmohan Reddy who is looking to become the first chief minister of Seema-Andhra. His popularity had soared to dizzying heights, but according to opinion polls it has taken a hit recently. This has not deterred Jagan who only has ensured that his campaign style has become more aggressive.
He is campaigning both for the assembly and Lok Sabha segments in Andhra Pradesh. In the assembly segment, his main opponent is Chandrababu Naidu and he spares no effort to hit out at him. Over the past couple of days Jagan has been campaigning extensively in the Srikakulam district and he does not only speak about the bifurcation issue alone. There is more to the elections and the people have made their peace with the issue and are looking for development now, Jagan's campaign managers tell rediff.com.
He makes several stopovers to interact with the people. He visits a home where he meets with a family which clearly a great deal of love and respect for his father. He watches emotionally at the photograph of his father that has been placed along with a garland and then speaks with the family. After spending a couple of minutes with the family he comes out to speak with the big crowd which is waiting for him. He embraces an old lady and then carries a child, which provide a great deal of amusement for the crowds that have gathered.
At Srikakulam, he speaks about the proposed thermal project which had become a burning issue. Apart from this he promises reservation to the fishermen and Vaddera communities. He also says that if voted to power he will develop Seema-Andhra into a model state clearly giving the indication that this region is his priority and not Telangana.
His road shows resemble a rock show and the crowds brave the heat to come watch him, something reminiscent of his father. Although their campaign styles are entirely different, people still say that he very much reminds them of the late Dr Y S Rajasekara Reddy who believed more in padayatras.
Terming his campaign trail as the Jana Bheri (meet the people) programme he urges the people to bring back the Rajanna Rajyam for a prosperous state. Rajanna is what the people called his father fondly.
Although his party is contesting its first major elections, the campaign is nothing new for him. He has been part of campaigning during the various by-polls and prior to him quitting the Congress, he had already launched his Odarpu Yatra (condolence programme) programme in which he sought to popularise his father's legacy and also his own image.
Those close to the leader say that he is two different persons. He is one personality in private and transforms into a completely different individual when he is with the public. He knows that the people love him and with a perpetual smile on his face he approaches the voter. He ensures that at every possible opportunity, he steps down from his vehicle and interacts with the people. He particularly is very emotional when it comes to elderly people who speak good about his father. He is very often seen consoling them or even hugging and kissing them.
Jagan has a tough battle ahead. Although his enemy number one, the Congress is not being taken seriously in Seema-Andhra this time, he does have his fair share of headaches in the form of the Telugu Desam Party-Bharatiya Janata Party combine and also the fact that the superstar Pawan Kalyan is campaigning for them. From his speeches it is very clear that he is targeting the TDP only.
He has already released a chargesheet against Naidu and terms him as untrustworthy. He also says that Naidu had once said that the real growth is through industrialisation and not agriculture. This in fact is a very popular remark among the people especially in the farming sectors of the state with whom Jagan strikes an immediate chord.
In the eyes of the law, Jagan is an accused in a corruption case and currently he is out on bail. However he shows no signs of being affected and interestingly even the people he addresses in the rural areas do not seem to care. It was a well planned out strategy by Jagan and his family and they used almost everything that went wrong with them to their advantage.
The death of his father is a major issue during this election as Jagan still has a considerable amount of sympathy in the Seema-Andhra region. He begins every speech by speaking about his late father who had single-handedly helped the Congress win in the state. Appearing to break down, he also goes on to state that all he wanted to carry out was an Odarpu Yatra in the memory of his father and his good work and the same Congress which he was part of had denied him permission.
"When I quit the Congress due to this reason, they sought to malign me by throwing up these cases. Where was all this when I was in the Congress. They could not bear my popularity and hence thought they would sideline me. When I was in jail I always thought of what my father said and that was never to trust anyone. I don't trust anyone but all of you who will vote for me," he says.
He gets a roaring applause and the crowds scream out that they are with him. Ask any of the people who are watching him and they say he has come here to continue the legacy of Rajanna and the Congress has been unfair to him. This tells the complete story of the impact of the cases on him during the elections.
In short one could say that Jagan is a success story so far. A party that was founded three years back today has 18 MLA's, three MPs and five MLC's. Moreover, his popularity could also be gauged to a certain extent by the margin of 545,053 votes that he won in the Kadapa Lok Sabha seat in 2011.
However, Jagan is not all about the rural voter only. He strongly believes that technology should drive his political campaign. He has ensured that he has a strong team which runs his social media campaign also. This is evident from the fact that he is the most searched for politician on the internet in Andhra Pradesh. Apart from this he has a set of advisors, both old and young, who help with his campaign and also strategy.
Jagan, 41, whom everyone is watching today will contest the elections only from the assembly segment of Pulivendala, a seat that is held by his mother. Will this popularity which is evident during his road shows translate into votes? Many feel that it would, but then what actually happens on polling day is something that one cannot predict.

Watch this space for Part II of the series