The question now is whether BJP patriarch L K Advani will fall in line and contest from Gandhinagar or would he stick to his guns and not contest at all, says Renu Mittal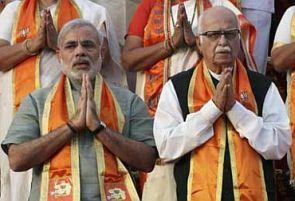 Congress election strategists are watching with amusement the drama being played out in the Bharatiya Janata Party, especially the power play between BJP's prime ministerial candidate Narendra Modi and party patriarch L K Advani.
The party on Wednesday evening decided to field Advani from his Gandhinagar constituency in Gujarat, overruling his desire to shift to Bhopal in Madhya Pradesh reflecting the tensions between him and Narendra Modi.
Advani had refused to attend the BJP Parliamentary Board meeting and is said to have firmly told party president Rajnath Singh that he was not interested in contesting from Gandhinagar. He felt the party workers in Gujarat would not be cooperative as he opposed the candidature of Narendra Modi for the post of prime minister.
Advani made it clear he had strong apprehensions that Modi may try to have him defeated from Gandhinagar, since he would be dependent on the chief minister and his team for victory.
Advani is said to have conveyed to the party president that he had more faith in Shivraj Singh Chauhan (Madhya Pradesh chief minister) for victory in the polls.
Advani has, for some time now, been a backer of the Madhya Pradesh chief minister and would not be averse to propping him as the prime minister if he was able to oust Modi from the battlefield.
Into his third term as chief minister, Chauhan is seen as an inclusive chief minister who has been able to carry Muslims along with him in Madhya Pradesh.
The Parliamentary board had asked Sushma Swaraj to speak to Advani and persuade him to contest from Gandhinagar. The question now is whether Advani will fall in line and contest from Gandhinagar or whether he would stick to his guns and not contest at all.
Either way, the political drama in the BJP being played out on television screens has affected the BJP.
A senior Congress leader said the development in the BJP was good news for the Congress. The resentment and anger amongst senior leaders who have been denied their constituencies could dent the BJP's prospects of crossing 200 seats. The BJP needs to do well in Uttar Pradesh and win at least 40 seats or more to give itself a winning total. But reports from UP indicate that the Brahmins are unhappy with the BJP, particularly with Modi, who is branding him himself as a backward.
The Muslims are yet to decide which option to take to defeat the BJP. In case the Muslim vote is not fractured, it could spell bad news for the BJP.
The Congress is yet to decide on a suitable candidate against Modi from Varanasi. It is considering fielding a Brahmin who can win the upper caste votes in the constituency.
The Congress is averse to supporting Aam Aadmi Party leader Arvind Kejriwal as it fears sending the wrong message in UP that the Congress cannot take on Modi and has opted to support a candidate from outside the party.
With over three-and-a-half lakh Bania votes in Varanasi, Kejriwal as the combined opposition candidate against Modi could put the PM-in-waiting in big trouble.
Modi would further be weakened if he decides to contest from Gujarat. It would seem that he would give up his Varanasi seat if he wins both seats, said a Congress leader.
Image: BJP prime ministerial candidate Narendra Modi with senior party leader L K Advani