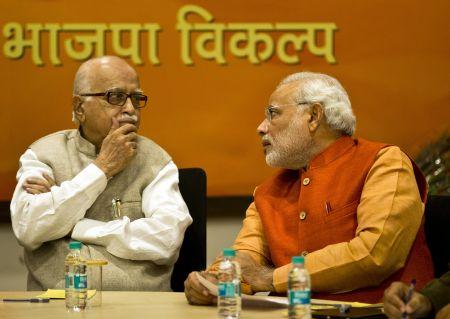 Rumblings within the Bharatiya Janata Party came to the fore on Wednesday night as the party decided to field L K Advani from Gandhinagar for Lok Sabha polls, angering the patriarch who wanted to shift to Bhopal in a reflection of his tensions with Narendra Modi.
After hectic deliberations in the party's Parliamentary Board and the Central Election Committee meetings, the BJP announced Advani's candidature from Gandhinagar, brushing aside his desire to shift out of Gujarat.
Modi, BJP's prime ministerial candidate, will contest from a second seat -- Vadodara in Gujarat -- apart from Varanasi in Uttar Pradesh.
Hectic discussions preceded the decision on Advani's Lok Sabha constituency at the day-long meeting of BJP Central Election Committee from which the party veteran kept away, arguing that he did not want to be part of discussions involving his constituency.
Advani had conveyed to Rajnath Singh that he wanted to shift to Bhopal from Gandhinagar as he too should have the right to choose his constituency like many other leaders who have been allocated their preferred seats, sources said.
At the CEC meeting, Modi is believed to have insisted on Advani contesting again from Gandhinagar lest a message goes that all is not well in the party. Advani has represented Gandhinagar in Lok Sabha for five times.
The party's announcement to field him from Gandhinagar upset 86-year-old Advani and he conveyed his displeasure to Sushma Swaraj and Nitin Gadkari, who met him after the CEC meeting, in a bid to placate him over the party's decision.
The two leaders then met Rajnath Singh to convey Advani's views.
Meanwhile, Modi met Rashtriya Swayamsevak Sangh chief Mohan Bhagwat, apparently to seek his intervention in resolving the issue.
Advani has represented Gandhinagar in the 10th Lok Sabha (1991-96), 12th Lok Sabha (1998-99), 13th Lok Sabha (1999-2004), 14th Lok Sabha (2004-09) and the current 15th Lok Sabha (2009-14).
As per the list of 67 candidates finalised by BJP on Wednesday, yesteryear dreamgirl Hema Malini got a ticket from Mathura in Uttar Pradesh while Olympics medal-winning shooter Rajyavardhan Singh Rathore from Jaipur (Rural).
Announcing the list of candidates, BJP leader Thawarchand Gehlot refused to answer whether Advani had accepted the decision to field him from Gandhinagar.
"I have told you about the decisions taken," he kept repeating before winding up the media interaction.
The list finalised by the party today included 21 candidates each from Gujarat and Rajasthan, 15 from Uttar Pradesh, three from Bihar, two from Maharashtra and one each from Kerala, Jharkhand, Andaman and Nicobar, Dadra and Nagar Haveli and Daman and Diu.
The party also announced 15 candidates for Odisha assembly elections and 17 for Arunachal assembly polls.
Image: LK Advani and Narendra Modi
Photograoph: B Mathur/Reuters