'I cannot be audacious to say I am winning, but the mood of the people is in our favour.'
'Their whole campaign has been family-centric and the level of debate has gone down so much. People don't like it.'
Rita Bahuguna Joshi, the Congress candidate, tells Rediff.com contributor Anita Katyal, why she hopes to win the Lucknow seat.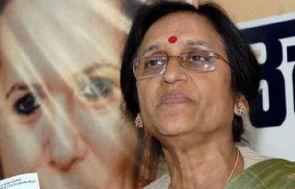 Fighting a keenly contested battle against Bharatiya Janata Party President Rajnath Singh in the prestigious Lucknow Lok Sabha seat, Rita Bahuguna Joshi, left, appears unfazed on election eve.
After slugging it out on the campaign trail for the past several weeks, Joshi, the Congress candidate, is literally rendered speechless due to a sore throat. But this does not stop her from sitting in on endless meetings with party workers through the day as she issuess incessant instructions for polling day on Wednesday.
Seated in her bustling election office on Sarojini Naidu Road, Joshi responds to a few questions even as she, every now and then, sinks her face into an inhaler in a desperate attempt to regain her voice.
Although pitched against a formidable opponent, she feels the work undertaken by her over the last two years as an MLA will stand her in good stead.
"People are happy with my work. Since this is my third election, the people of Lucknow are assured that I will not be running away. The same can't be said about Rajnath Singh who keeps changing constituencies," she tells Rediff.com
Rajnath Singh won Ghaziabad in 2009, but moved to Lucknow this election. In the process, he upset outgoing Lucknow MP Lalji Tandon who enjoys substantial support in this constituency.
Joshi contested the 1999 election from Allahabad, but lost. In 2009, she took on Lalji Tandon in Lucknow, but lost by 40,000 votes.
She remembers she only had two weeks notice for the Allahabad election but is much better prepared this time. An MLA from Lucknow Cantonment, Joshi is a familiar figure in the Uttar Pradesh capital.
Recalling the 2009 election, she says, "It was the first election that Atal Bihari Vajpayee was not in the fray, but his memory was still strong and his legacy very much intact. It is a different story five years later."
There is, she contends, anger among the citizens of Lucknow over deteriorating civic amenities for which they hold the BJP responsible, since the party controls the local government.
"Rajnath Singh has never personally impressed the people of Lucknow," she adds.
While the BJP president is trying to cash in on Vajpayee and the party's prime ministerial candidate Narendra Modi's popularity, Joshi is banking on her father's legacy.
Hemawati Nandan Bahuguna, her father, was chief minister of Uttar Pradesh in the early 1970s and petroleum minister in the Janata Party government. "His legacy is really helping me," she says, adding that being from the hills, she connects well with voters from Uttarakand who are settled in Lucknow. Her elder brother Vijay Bahuguna, a former judge of the Bombay high court, was the chief minister of Uttarakhand until recently.
"I am closely associated with their cultural activities and have had sustained interactions through the years," she says, criticising Rajnath Singh for calling on Muslim clerics and Congress veteran Narain Dutt Tiwari.
There is nothing wrong in meeting religious leaders, she says, but these interactions should be undertaken on a regular basis and not on election-eve. "The BJP can never command the respect of the minorities who are fully with the Congress," she says.
So how confident is she of victory? "I cannot be audacious to say I am winning, but the mood of the people is in our favour. At the end of the day, the voter is supreme," she says.
The tenor of the speeches made by BJP leaders, she feels, has hurt the party. "Their whole campaign has been family-centric and the level of debate has gone down so much," she says, referring to the BJP attack on the Gandhi-Nehru family. "People don't like it."