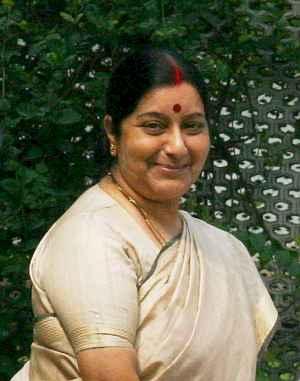 She looks like everyone's favourite aunt. She talks like one. But she had become a minister at 25 and gone on to do highly successful stints as Union parliamentary affairs minister, health minister and information & broadcasting minister.
She had also taken on the job of Delhi's chief minister with the sickening certainty of defeat staring her in the face. Sushma Swaraj has fought battles fearlessly, lost a few, and won many. By rights, according to many, she is the one who should have been declared the Bharatiya Janata Party's prime ministerial candidate for this year's general elections. But that didn't happen.

Is that why she is so quiet these days?
Special Coverage: Election 2014

If BJP has a serious feminist, it has to be Swaraj. It was after a campaign she fought long and hard within the organisation that a third of all party posts were reserved for women.
True, there are women in BJP's mahila morcha who still see "khichdi pakao andolan" as a way of mobilising women. Swaraj likes khichdi but draws a line at that, rather than considering it a way to women's emancipation.
Instead, she believes in enabling women to chase their dreams in the way they see them. She asked her party to down its shutters to Pramod Muthalik and the Sri Ram Sene.
She asserted indignantly that her lawyer daughter, Bansuri, had the right to decide for herself whether or not to celebrate Valentine's Day -- who was Muthalik to make up her mind for her? Swaraj has kept BJP on course on the issue of the Women's Reservation Bill, even when members of the National Executive of the party have objected to it.
"She was the best I&B minister we had," says Roop Sharma, the country's first woman cable operator and a vocal businesswoman who has networked and lobbied with eleven ministers in successive governments.
"She (Swaraj) brought in the conditional access system, which paved the way for digitisation. she did this without putting a media gag or facing a single court case. And when she worked out the revenue-sharing model, she didn't forget the smallest guy, the cable operator."
Swaraj's celebration of "Karva Chauth" (the fast married women keep for their husbands' long lives) has confounded many progressive women. Maybe that's part of the persona Swaraj has wanted to create, a kind of an acceptibility bridge.

We need to remember where she came from. Having grown up in a Sangh family, Swaraj began her political journey from the Akhil Bharatiya Vidyarthi Parishad. She married Swaraj Kaushal, a socialist, and came in contact with many socialist leaders like Chandrashekhar and George Fernandes, who accepted her with affection as one of them, though not always with the respect she deserved.

Swaraj has never been an airhead. She is an exceptionally gifted speaker and is widely read. Because she was trained to be a lawyer, she brings to her speeches some of the feints of the courtroom.
It is hard to forget the exchange between her and Prime Minister Manmohan Singh during the 2G spectrum scam debate -- in Urdu couplet. She told the PM: "Tu idhar udhar ki baat na kar / yeh bata ki kafila kyun luta / hamein rehzano se gila nahin / teri rehbari ka sawaal hai (Don't talk of things that are not relevant, just tell me why the caravan was plundered. I have no grouse against the robbers, it's a question on your leadership)." The poetry drove home that the scam took place under Singh's watch and, therefore, he could not be exonerated of blame.

Singh replied: "Mana ki teri deed ke kaabil nahi hun main / tu mera shauk dekh, mera intezaar dekh (I know I am not worthy of your kindness but just reward my patience)."

During the debate on FDI in retail, she brought the House down when she said the size and proportions of the mooli (radish) Deepender Singh Hooda was detailing (as part of the gains farmers would get if FDI in retail was announced) was more akin to the description of a lauki (marrow).

Swaraj may have intense likes and dislikes -- which makes her somewhat unpredictable -- but she relates to BJP workers like no other leader in the party. She travels even when Parliament is in session, knows workers in her constituency, their families and even the names of workers of political rivals -- she can pick them out in a crowd.

Little wonder that it was Sushma Swaraj who was picked by BJP to be pitted against Congress president Sonia Gandhi in Bellary in 1999. Till then, Bellary had been a Congress pocket borough. Swaraj worked with the area, learnt Kannada and built the party unit.
She lost that election and it hurt her as she had staked a lot. But that's what brought her in touch with Bellary's Reddy brothers: Janardhana, Karunakara and Somasekhara; and B Sriramulu. When the B S Yeddyurappa government in Karnataka hung in balance, it was Swaraj who spoke to them to call off their opposition to Yeddyurappa.

But by then the Reddy brothers had acquired wealth beyond description. Swaraj tried to distance herself from them but found her party repeatedly propelling her in their direction every time they threw a tantrum. This was used against her by a group in BJP. Finally, she had to publicly announce she was breaking with them. And, since then, she has refused to meet the brothers and opposed B Sriramulu's re-entry into BJP.

Swaraj is self-assured but has, over the years, become a private politician. She rarely gives interviews these days. But there was a time when, if you wandered into her home on a Sunday, she would welcome you warmly, even if her hair was smeared with oil and wrapped in a towel.
When Nitin Gadkari had to resign as the president of BJP, she was asked to replace him; she declined. That might have been a tactical error -- had she taken the job then, it would have been Swaraj leading the party into the 2014 battle.
Who knows what might have been in store. Swaraj has never attacked or criticised any minority community or spoken disparagingly about any religious belief. After L K Advani, she is more acceptable -- even to the Congress -- than any other BJP leader. Recently, the Congress' Digvijaya Singh said Swaraj would make a better prime minister than Modi. Swaraj retorted Digvijaya would make a better PM than Rahul.
Will Swaraj ever become PM? Unlikely. According to Modi supporters, should BJP come to power, "Sushma ji would be the best Speaker of the Lok Sabha". That is their way of saying she would be given a job that will keep her out of Modi's hair.
Swaraj knows this and, perhaps that's why, is biding her time and licking her wounds, quietly. But don't count her out yet.