Booth-level surveys conducted by political parties say the electorate voted differently in the 119 assembly and 17 Lok Sabha segments in Telangana. Vicky Nanjappa reports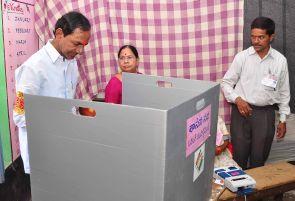 Telangana, which witnessed high voter turnout on polling day, has everyone in the region talking about which party will manage the numbers to form the first government in the new state.
The Congress and the Telangana Rashtra Samithi conducted booth-level surveys on Wednesday point to a different voting pattern in the Assembly and Lok Sabha segment.
TRS sources say they find their performance has been better in the assembly segment as opposed to the Lok Sabha polls. Congress sources too indicate a similar trend but they anticipate a hung verdict in the assembly segment. The Congress feels they may get about 30 to 35 seats in the assembly segment. The TRS however hopes to touch the half way mark with 60 seats, but could end up slightly short. It could either take the help of the Majlis-e-Ittehadul Muslimeen or the Congress to form the first government in Telangana which has 119 assembly seats.
Internal surveys of political parties suggest that the Congress may have an edge in the Lok Sabha segment, which has 17 seats. The Congress could end up with 9 of these seats while the TRS could get 5 or 6 with the remaining shared by the Telugu Desam Party-Bharatiya Janata Party combine. The YSR Congress which does not have a great presence in Telangana feels it would put up a good fight in most of the constituencies and their vote share could be good.
Political observers told Rediff.com that there could be a reason behind the different voting pattern in the two segments. It is very evident that the only issue this election was the Telangana sentiment. The voters wanted to thank both the Congress and the TRS for the formation of the state.
While the TRS has fought for a separate state for the past decade, the Congress ultimately pushed the bill through. Experts say the TRS at the assembly segment is a better choice as it is a local party capable of understanding local issues. The Congress on the other hand has a better standing in Parliament compared to the TRS and having both parties in important roles at the state and Centre would provide an ideal cocktail for the betterment of the new state.
Image: Telangana Rashtra Samithi President K Chandrashekar Rao cast his vote at Siddipet.
Photograph: SnapsIndia