Congress Vice president Rahul Gandhi's live video chat session on Saturday appeared to be a last-ditch effort to bridge the gap with party workers and boost their morale with an eye on the coming general election. Anita Katyal reports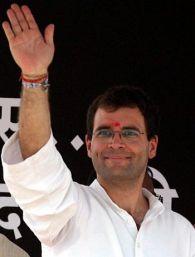 At a time when the Congress rank and file is feeling utterly demoralised at the prospect of a near-certain defeat in the next month's Lok Sabha polls, party vice-president Rahul Gandhi made a vain bid to enthuse the cadres by interacting with them in a Google Hangout live video chat session on Saturday.
Party workers sitting in faraway Odisha, Assam, Punjab, Maharashtra, West Bengal and Uttar Pradesh, were assured by a confident Nehru-Gandhi scion that the Congress is coming back to power. Pointing out that there are several weeks to go for the elections, he insisted that the Bharatiya Janata Party will not come back to power.
"We are going to win, first of all. There is no question of BJP coming to power because we are going to people with our idea that is love and empowerment. Hate can't defeat love. Our schemes are based on love. NREGA is love, RTI is love."
But the workers were far from convinced as reports continued to pour in about senior leaders, including ministers and MPs, who want to skip the coming election as they are not confident about winning while others want to shift to a safer constituency.
Prominent leaders who have do not wish to be nominated again include P Chidambaram, G K Vasan, Tamil Nadu state unit chief Thangkabalu, senior MP Satpal Maharaj and Manish Tewari.
While Rahul Gandhi is insisting that they should contest the election from their old constituencies as it would send out the wrong message that they are deserting the party, the leadership is finding it tough to find candidates in places like Seemaandhra where the Congress faces a complete wash-out. It is the same story in West Bengal.
Several workers told Rahul Gandhi that they were feeling really low and that they were not particularly enthused about the coming election. "How do we fight this election… what should we tell the people," was a constant refrain.
An angry worker from Punjab disagreed with Rahul Gandhi that the party lost the last Punjab assembly poll because of overconfidence, stating that it was due to the wrong distribution of tickets. "Will you take action against those responsible," he wanted to know.
Given this mood of despair and despondency, Rahul Gandhi's live video chat session on Saturday appeared to be a last-ditch effort to bridge the gap with party workers and boost their morale with an eye on the coming general election.
The exercise was also meant to dispel the growing perception in the party that Rahul Gandhi is not meeting workers and that he is closeted with a handful of personal strategists at his Tughlaq Lane residence while others are kept in the dark.
In an attempt to instill confidence in them, Rahul Gandhi told the workers that the BJP was running a negative campaign against the Congress and that they should not fall prey to these rumours.
Listing out the various achievements of the United Progressive Alliance government like the Right to Information and the rural job employment guarantee programme, Rahul Gandhi exhorted the cadres to tell the people about the revolutionary work done by the ruling alliance.
Faced with a sceptical audience, Rahul Gandhi was forced to admit that the UPA government could have done a better job but, again, he blamed the BJP for hampering the government.
"We could have done better but we allowed the BJP to disrupt Parliament. Things would have been better if we had countered them by telling people about their disruptive strategies, Rahul Gandhi said, adding that they should have told the people more forcefully about how the BJP was stalling democracy.
The Nehru-Gandhi scion also admitted the Congress support base across the states had eroded substantially while regional players had gained at the cost of the grand old party. "The Congress was once the dominant party in the country but this is not the case today," he told party workers, urging them to work hard to recapture the party's support base.
"We have to go back to the basic idea of the party, which is empowerment of the people. They have to be involved in policy making…this will automatically increase the party's support base," he told the workers.
While conceding to some drawbacks in the party, Rahul Gandhi was not willing to admit that his experiment of conducting US-style primary elections in 16 constituencies had not been received well by party workers, stating that such naysayers were in a minority.
While Rahul Gandhi has set the ball rolling by interacting directly with party workers without the presence of intermediaries, this exercise will be carried forward on Sunday by Union Minister and Rajasthan Pradesh Congress Committee president Sachin Pilot and Rahul Gandhi's mentor Sam Pitroda.
However, it is not clear if Rahul Gandhi will participate in a similar interactive session with netizens on Google hangout. The party wanted to first conduct an "in-house interaction" before opening it out to the public. After his disastrous interview to Times Now, Rahul Gandhi's aides are nervous about exposing him to a wider audience.
Image: Congress vice-president Rahul Gandhi