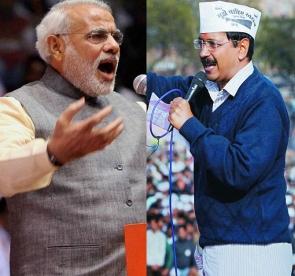 His comments about the media being "sold out" may have attracted flak from journalists and political leaders alike, but Aam Aadmi Party leader Arvind Kejriwal seems unfazed by all the criticism.
The former Delhi chief minister continued with his attack on the media during his visit to Karnataka on Saturday.
Kejriwal is scheduled to participate in a fund-raiser in Bangalore on Saturday, hold a road show in Chikkaballapur on Sunday and conclude the visit with a rally in Bangalore.
"Which media house will publish facts about (Gujarat Chief Minister and the Bharatiya Janata Party's prime ministerial candidate) Narendra Modi and his development claims," Kejriwal asked media personnel on Saturday.
"There are many more truths about Modi's development. But the question is, which media house will show the truth," he asked.
"Is it not true that 60,000 small industries shut down during Modi's regime in Gujarat? Is it not correct when I say that corruption still exists in Gujarat despite Modi being the CM for 11 years? Is it not true that 800 farmers committed suicide during Modi's regime? Which media has the courage to tell the truth about Modi," asked the former chief minister of Delhi.
"Have some sections of the media not lied about the development claims of Narendra Modi," he asked.
Kejriwal will commence his campaign for the Lok Sabha elections in Karnataka where his party has fielded 13 candidates so far.
The party intends to field candidates in all 28 constituencies and the final list is expected to be out in a day or two.
Apart from road shows and a meet the press programme, Kejriwal will also attend a dinner hosted by former Infosys director B Balakrishnan, who is the Aam Admi Party's candidate from Bangalore North.
The dinner will be a fund-raiser during which each attendee will have to shell out Rs 20,000 to attend. Professionals from the IT sector and industrialists, among others, are expected to attend the event.
Image: Gujarat CM Narendra Modi with AAP leader Arvind Kejriwal