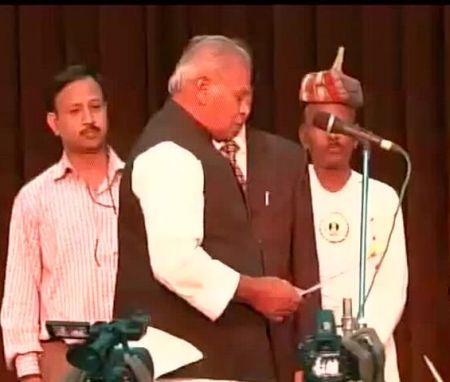 In a surprising move, the Rashtriya Janata Dal announced it would support the new Janata Dal-United government in Bihar headed by Jitan Ram Manjhi.
The announcement was made by RJD legislature party leader Abdul Bari Siddiqui and has come as a boost for the new ministry ahead of the trust vote on Friday.
Manjhi, who was nominated by Nitish Kumar after he resigned following the JD-U debacle in the state in the Lok Sabha polls, has called a special session of the assembly on Friday to seek the trust vote. "Though our (RJD) support will not decide the survival of the new JD-U government which already enjoys majority, we decided to extend support as he hails from mahadalit community," Siddiqui said.
"RJD has been championing the cause of social justice and so we decided to extend our cooperation to the new CM hailing from mahadalit community," he added. The support is also to 'defeat the communal forces represented by the Bharatiya Janata Party and the Rashtriya Swayamsevak Sangh',' Siddiqui said.
RJD's support was, however, only 'for now', he said, adding, "We will decide about our support to him (Manjhi) on the basis of gun-dosh (merit and demerit)."
RJD has 21 members in the Bihar assembly whose effective strength at present is 237. JD(U) has 117 members including the Speaker and opposition BJP has an effective strength of 88.
RJD's announcement of support to the JD-U ministry gives rise to speculation of realignment of parties opposed to BJP in Bihar in the wake of the saffron party's electoral success in the recent parliamentary polls.
Image: Jitan Ram Manjhi being sworn in as the new CM of Bihar