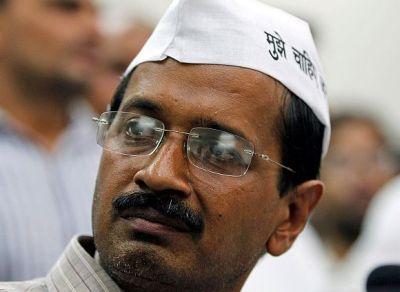 In an attempt to woo rural voters, the Aam Aadmi Party chief Arvind Kejriwal began his campaign trail in Varanasi on Wednesday by holding chaupals or small public meetings.
Accompanied by party leader Sanjay Singh and other AAP members and volunteers, the former Delhi chief minister, who first visited Korouta village comprising mostly of weavers and farmers, apprised the locals of his party's aims and its successful government of 49 days in the nation's capital.
He told farmers if his party is voted to power, their lands would never be taken without prior consent. "If Bharatiya Janata Party is voted to power then farmers' land will be given to Adanis as was done in Gujarat, where a number of farmers have committed suicide," he alleged.
Addressing another public meeting in Kotwa, he said that the only way to eradicate poverty from the country was to provide proper and feasible education to children. "If people get proper education then they may get jobs, do better business and can setup their own industry," he said.
He also promised that AAP would provide higher market value-price for their crops avoiding the middlemen.
Speaking about the Naxal menace in the country, Kejriwal said, "Naxalites should practice non-violence. Our party is against any violence as any problem can be solved by holding talks together."
Kejriwal will be visiting nearly half dozen villages in the outskirts of the city during his campaign.