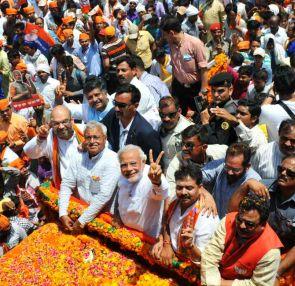 Objecting to telecast of Narendra Modi's road show in Varanasi when polling was on for the sixth phase, Congress on Thursday pressed the poll panel for registration of FIR against BJP leaders and alleged that EC "inaction" on previous violations of code of conduct had given the saffron party an opportunity to flout the electoral laws.
A delegation of Congress leaders visited the Election Commission and submitted a complaint in this regard. Party spokesperson Anand Sharma dubbed it a "flagrant violation" and said "we do not want just issuing of notice. We want action."
They alleged that despite campaigning being closed in 117 Parliamentary constituencies, which went to polls today, Modi, BJP leaders and workers continued to campaign by installing large screens in these constituencies and showing the entire programme of the nomination filing exercise of Modi in Varanasi.
In a communication to the Chief Election Commissioner V S Sampath, the Secretary of AICC legal department K C Mittal said that everything starting from the filing of nomination, speeches, public address, road show and appeal to voters were being telecast substantially, affecting the fair and proper conduct of polls in the 117 constituencies.
"The Commission is aware that no such campaigning is permissible and Modi and the BJP leaders are deliberately and intentionally doing it for electoral purposes....It is contrary to provisions of Representation of People Act and not only a case for registration of FIR under Section 126 of R P Act but to prevent continuation of such campaigning which is going on since morning," he said.
Mittal noted that in a similar case at the time of release of manifesto by BJP when the polling was going on in Assam and other places Congress was assured that necessary action would be taken by Commission to prevent recurrence of such incidents.
"But unfortunately the Commission has not taken any steps to implement prohibition of campaigning within 48 hours in letter and spirit."
He went on to add, "Rather, the inaction by the Commission has given an opportunity to Modi and BJP to flout the law which has serious consequences."
The Congress requested the EC to take immediate steps to prevent such campaigning in 117 constituencies and that "FIR should be registered against Modi and other leaders of the BJP under Section 126 of the R.P. Act for blatant violation of the law laid down under the provisions of R P Act apart from derecognition of BJP as political party."
At the AICC briefing, Anand Sharma said that the BJP programme was an elaborate affair and the telecast took place from 8 am till 3 pm.
He wondered as to "why the EC was not alert" and why the media was not told against telecasting it in the constituencies having polling on Thursday.
"We expect the EC to take appropriate action. It is a very flagrant violation of the Representation of People Act.... We will wait for the response of the EC," Sharma said.
Asked whether Congress planned to approach the President on the issue, he merely said, "Let us take one step at a time."
Image: Modi flashes the victory sign as he heads to file his nomination in Varanasi on Thursday
Photograph: Sandeep Pal/Rediff.com