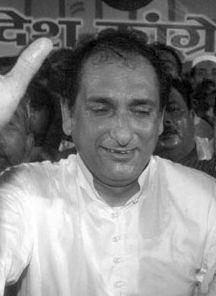 Upset over not getting a Lok Sabha ticket, former Bihar Congress chief Mehboob Ali Kaiser could join Lok Janshakti Party, led by Ram Vilas Paswan, in a couple of days.
Sources in both the parties said Kaiser is in touch with the LJP leadership, which has not yet declared its candidate for the Khagaria seat, one of the seven that Paswan's party got under the seat-sharing agreement with the Bharatiya Janata Party.
Congress, which has finalised an alliance with Lalu Prasad's Rashtriya Janata Dal could not get the Khagaria seat. Kaiser had contested from this seat in 2009 Lok Sabha polls getting more than 1.25 lakh votes and was pitching for it this time as well.
He was also said to be in touch with the JD-U but the talks have not fructified as it has someone else in mind for the seat.
The former Bihar PCC chief had recently communicated his unhappiness to party President Sonia Gandhi over the manner in which Congress-RJD alliance was finalised opining that most of the seats the Congress got are not winnable and the party interests would suffer, the sources said.
Paswan and his son Chirag, who heads the LJP's parliamentary Board, are in Jamui, not far away from Khagaria. Paswan, who had once rooted for a Muslim chief minister for Bihar, is learnt not to be averse to Kaiser joining his party.
At the AICC briefing, party spokesperson Shakeel Ahmed, however, downplayed the development saying he was not aware of any such move.
Ahmed also said that though every party has its demands, any alliance between two parties is done keeping in mind the strong and weak points of each other. Ahmed hailed the RJD-Congress alliance as a "very good" one.
Sources, however, say that Congress Legislature Party leader from Bihar Sadanand Singh is also unhappy over the alliance and he is learnt to have voiced his reservations over the seat sharing with RJD in the Central Election Committee meeting of the party chaired by Sonia Gandhi a few days back.
Singh wanted to contest from Bhagalpur. However, the RJD did not agree to spare the seat to Congress. Singh is one among the four MLAs, who are supporting Chief Minister Nitish Kumar's JD-U government in Bihar and there are speculations that the MLAs could switch over to that party any time now.
Bihar leaders feel that except for 4 of the 12 seats that Congress got under the alliance arrangement, all others are very difficult where Congress has minimum presence.
The four good seats the Bihar leaders believe are Lok Sabha Speaker Meira Kumar's Sasaram and sitting MP Md Asrarul's Kishanganj besides Aurangabad from where former
Kerala Governor Nikhil Kumar will contest and Supaul, where Ranjeet Ranjan is in the fray.
The other eight seats that Congress have got are Hajipur, the strong-hold of LJP chief Ram Vilas Paswan, Nalanda, the bastion of Bihar Chief Minister Nitish Kumar, Patna Sahib from where RJD Chief Lalu Prasad himself lost in 2009 Lok Sabha polls, Purnea, Gopalganj, Muzaffarpur, Balmikinagar and Samastipur.
Congress sources said that earlier there was a view that if and when an alliance with RJD happens, Congress would stake claim on those seats where the party had got more than 1 lakh vote in the last Lok Sabha elections or more than 1 lakh votes in six assembly segments of a Parliamentary seat in the last Assembly elections.
The seats, where Congress polled more than one lakh votes in last Lok Sabha elections were Khagaria, Madhubani, Sitmarhi. Supaul, Sasaram and Kishanganj. Of this Congress got the sitting seats of Sasaram and Kishanganj. Madhubani seat was won Shakeel Ahmed in 2004 Lok Sabha. But he came third on this seat in 2009 polls with BJP winning it and RJD's Abdul Bari Sidiqqui the runner up. Congress and RJD fought the Lok Sabha polls together in 2004 and separately in 2009.
In the Bhagalpur Parliamentary seat, which Congress and RJD fought separately, Congress polled more than 1 lakh votes in its six Assembly segments. Besides, Congress had got around 90 thousand votes in two more seats.
In Sitamarhi and Supaul, Congress had finished second and RJD was third. Congress has got Supaul, while Ranjeet Ranjan, wife of Pappu Yadav, is likely to get RJD ticket from Madhepura, a seat for which Lalu Prasad's party is yet to announce candidate.
Congress hopeful from Sitamarhai Samir Kumar Mahaseth was last heard warming up to the BJP after RJD got the seat. Congress candidate from Hajipur Savita Devi had contested the seat on BSP ticket last time fetching less than 2000 votes.
Image: Former Bihar Congress chief Mehboob Ali Kaiser