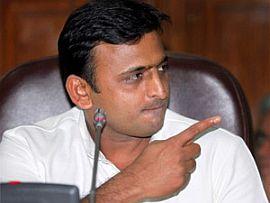 With controversial Samajwadi Party leader Azam Khan in the line of the Election Commission's fire for his comments, Uttar Pradesh Chief Minister Akhilesh Yadav on Monday came out in his support, accusing the poll body of taking action without going through his explanation.
"Azam was served a notice by the EC. He has replied to it. However, they (the EC) did not go through his reply and has taken action against him," said Yadav while addressing as election rally in support of his cousin Dharmendra Yadav.
The UP CM's remarks come a day after Khan slammed the EC alleging it was acting at the behest of the Congress.
On April 11, the EC had banned Khan from campaigning in UP and asked authorities to initiate criminal proceedings against him for his alleged hate speeches. Yadav said, "Whenever atrocity is committed on SP men, the people reply by voting in maximum numbers in favour of our party."
Yadav further alleged that his comments about the Bharatiya Janata Party spending huge amounts of money on its election campaign, was finally being reported by the newspapers.
"I have been saying that the BJP was spending over Rs 1,000 crore on its election campaign. Now, the media is saying that Rs 10,000 crore is being spent on their election campaign. If it is probed, the figure might be even more than this," said Yadav.
Charging the opposition with playing politics in the name of religion, Yadav added that the SP was the only secular party, which could stop communal forces from spreading its wings.
"BJP is the most chalu (cunning) party… No other party can match it in this regard. They can get stones to drink milk. You all should remain alert from such forces," the UP CM added.
Holding that the Lok Sabha results of UP would decide the fate of the future government in the country, Yadav said SP was going to play a crucial role in the days to come. "Mulayam Singh Yadav is the only leader, who remains on the ground and is associated with the concerns of farmers and the poor. All the parties have released their manifesto but none of them have talked about the farmers and the poor. Their manifesto promotes industrialists and is not for the development of the poor," he said.
On charges that the laptops his government had distributed were being used to watch movies, Yadav said, "They (opposition) allege that students are using the laptops distributed by us to watch movies. So what if they are doing so? What is the harm in it?"