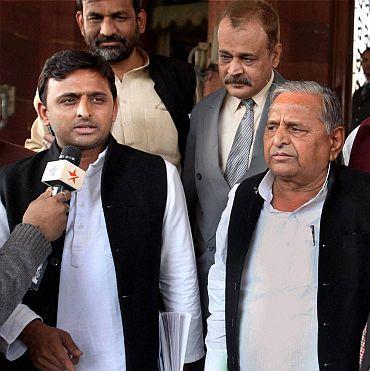 At an event to mark the launch of multiple schemes by the state government, the Samajwadi Party chief chose to veer off tangent towards the end of the show, reports Sharat Pradhan
Uttar Pradesh Chief Minister Akhilesh Yadav and Azam Khan, the most powerful minister in his cabinet, were left embarrassed by Samajwadi Party chief Mulayam Singh Yadav at a function at the CM's residence in Lucknow.
At an event to mark the launch of multiple schemes and projects by the state government, after the mandatory rituals and routine speeches by various officials and ministers, Mulayam chose to veer off tangent towards the end of the show.
"These days, sycophancy is on the rise in Uttar Pradesh. I am convinced that the people in the government are surrounded by sycophants who are virtually ruling the roost," Mulayam alleged.
In an obvious bid to change the topic, Azam Khan butted in to make a dig at Mulayam's one time confidante Amar Singh, saying, "You have already shown the door to the biggest sycophant."
Mulayam, however, was not amused.
Ignoring Khan's interruption, he said, "Don't think that I am not aware of what the ministers are doing. All ministers ought to know that if they deceive me, they will cease to remain ministers."
He also expressed his displeasure on noticing that Akhilesh and Azam Khan were engaged in a conversation while he was addressing the audience.
Mulayam rebuked his son openly, saying, "Chief Minister, please pay attention."
Reminding his audience that the "party is above the government", Mulayam also trained his guns at the bureaucracy.
"Bureaucrats believe in just passing files from one to the other; Often, peons entrusted with the files choose to sit over them," he said.
Turning towards Akhilesh, a visibly chagrined Mulayam quipped, "The trouble is that you all have got used to being happy with everyone's 'sir-sir'. It is high time you let go of that mindset."
He also recalled how he had castigated the then state chief secretary who had chosen to sit over his instructions during his first stint as the UP chief minister.
When he urged his son Akhilesh to take note of these issues, Khan intervened to say, "Rest assured netaji, everything will be done strictly in accordance with your wishes."
But an unmoved Mulayam told Khan, "Now it is time for even you to become active."
And in a sermonising parting shot, he said, "The government must give priority to sectors like roads, electricity and water. All projects related to these must be executed without delay."
He went on to add, "Take decisions and don't dilly-dally."
Both Akhilesh and Azam did their best to hide their embarrassment by maintaining the facade of a smile.
But Mulayam's aggressive tone at a routine state function left the audience -- comprising ministers, officials and journalists -- quite bewildered.
Image: Uttar Pradesh Chief Minister Akhilesh Yadav with his father Mulayam Singh Yadav