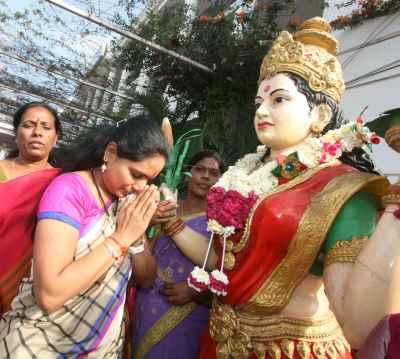 Kavita Kalvakuntla, the daughter of Telangana Rashtra Samithi chief K Chandrashekara Rao, is making her electoral debut in the high-profile Nizamabad parliamentary constituency where she will take on the sitting Congress MP Madhu Yaskhi Goud.
Although hitting the campaign trail is something new for Kavita, she is well accustomed with interacting with the people as she has been closely associated along with her father in the Telangana movement.
Kavita tells Rediff.com's Vicky Nanjappa that the people of Nizamabad will reward the TRS as "they are the ones who fought for the state as a result of which it was achieved".
Also Read: Nizamabad, Telangana's blockbuster contest
Telangana was formed for its people, not KCR's family: Madhu Yaskhi Goud
"I may be new to the political arena, but the people here know me. I am in fact the daughter-in-law of Nizamabad", she says.
For Kavita it is going to be a tough fight ahead and she says that she has to manage a lot both on the political and family fronts.
"My husband D Anil belongs to Potangal village which falls in this constituency, and hence I call myself the daughter-in-law of Nizamabad.
"There is a lot of sacrifice that one needs to do at this front. I have two sons, aged 7 and 11, and at this juncture it is very difficult for me to give time to them," she says.
Kavita, however, prefers not to talk much and goes about her work. Unlike her brother K T Rama Rao, a prominent TRS leader and spokesperson, Kavita took care of the backroom activities of the TRS.
An engineer by profession, Kavita refutes allegations that she was given the ticket only because of her family background.
"I have been associated with the Telangana movement for long now," she says, adding "I returned to India in 2004 and since then has been associated with the movement".
"I started off by helping out poor children and then I started an NGO which focused on the upliftment of the people of Telangana. Hence to call me a novice is wrong and it is even more wrong to say that I got this seat because of my father. The elections are a completely different scenario and I will need to work hard to secure my victory," she notes.
On her chances, she says, "I am confident that the TRS will get the major share of the seats. There is a big Telangana wave and this will work well for us. The people know that the TRS has always been with the people of the region and is the only political party which has raised this issue for so many years. This is something that the people know and they will reward us".
"In my constituency of Nizamabad there is a lot of work that needs to be done. This constituency is backward, thanks to the Congress and the Telugu Desam Party. What did any of them do for the constituency? They had so many years on hand, but neglected it, and speaking to the people has made me understand their pain. This is not the time to think about the competition, but work towards the betterment of the people," she seeks to point out.
Kavita has come under a lot of criticism from all parties ever since her name was announced. Her opponent Madhu Yaskhi Goud says that family is being promoted. Other members of the Congress also have blasted KCR for promoting his family.
KCR, however, is not perturbed. Kavita, who is his second daughter, had wanted to contest the elections in 2009, but at that time the TRS president had sought to promote his son K T Rama Rao and assured her of a ticket in 2014.
He has lived up to his promise and the buzz is that he will ensure that if she wins she would be pushed into the Union cabinet somehow. These allegations are, however, rubbished by Kavita at the moment.
Image: Kavita garlanding a statue of Telangana Talli (Mother of Telangana) at the TRS headquarters in Hyderabad. Photograph: SnapsIndia