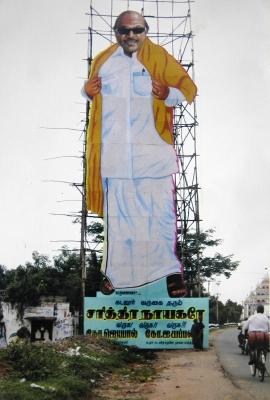 If you thought you knew all about sloganeering, maybe you should take a trip to Tamil Nadu. Politicians in the southern Indian state have perfected the art of using catchy idioms and phrases to capture the public imagination, says David Gabri
The ruling All India Anna Dravida Munetra Kazhagam in Tamil Nadu has launched its campaign with the slogan of peace, prosperity and progress. After tasting success in the state, party workers have been told to promote their leader at the national level.
All their slogans are aimed at getting into national politics. One slogan plastered all over the state currently says, 'Any CM can do good things, but only Amma [chief minister and AIADMK leader J Jayalalithaa] can do God things.'
The posters urge voters to give Jayalalithaa a chance to lead the country by giving her the maximum number of seats from Tamil Nadu. The state sends 39 members of Parliament to the Lok Sabha. The neighbouring Pondicherry, a Tamil-speaking Union territory, sends one.
Jayalalithaa is nothing if not bold. Her slogans have been carefully crafted to let people know of her aspiration to be the prime minister. Other leaders of the Third Front seem to lack this self-confidence.
Ramalingam, an AIADMK worker, says 'Amma' is their "protecting Goddess". He and others like him belt out the slogans with great belief. Women fans of the party shout slogans such as 'Naalai namathe, 40m namathe' (Tomorrow is ours, 40 seats are ours).
Even the 1964 slogan describing the late chief minister M G Ramachandran, Jayalalithaa's political mentor, as 'Aayirathil Oruvan' (one among thousand), has been revived. After all, the older generation still reveres the one-time film star.
By contrast, the Dravida Muntera Kazhagam's slogans are yet to find their cadence. 'Light up Tamil Nadu, save Tamil Nadu from power-craving Jayalalithaa' and 'Change is the only way for a prosperous Tamil community' hardly have the same ring. Though the party's octogenarian leader M Karunanidhi has offered 'We do what we say and say what we do', it does not seem to have grabbed much voter attention.
The smaller parties of Tamil Nadu may lag behind in number of votes and seats, but do not lack catchy slogans that convey their message to the faithful.
The Bahujan Samaj Party says, 'Engal ottil ungal aatchi nadakkathu' (You cannot rule over us with our votes). 'Vaaku seetu vilaiporul alla' (Vote is not a commodity to be sold) aims to make the Dalits realise that their vote is precious and must be used well.
'Vanniyar ottu anniyaruku illai' is the call of the Pattali Makkal Katchi, which wants to show its power by saying its vote is not for 'others'. The Bharatiya Janata Party, the main challenger for power in Delhi, is using its national slogans that showcase the development agenda. Even in Tamil Nadu, they say it's 'Time for Change, time for Modi' and "Time to make a difference'.
The ruling Congress, however, is yet to make public its focus apart from listing the glories of years past and requesting people to give them yet another chance.
Which slogan will carry the day? We will know soon.
Image: A DMK cutout of its chief, M Karunanidhi, hailing him as the 'historic leader'. Photo courtesy: jatmostwantedrajat.blogspot
This coverage is part of Project India, a journalism initiative organised by Bournemouth University, the UK, and supported by Rediff.com.