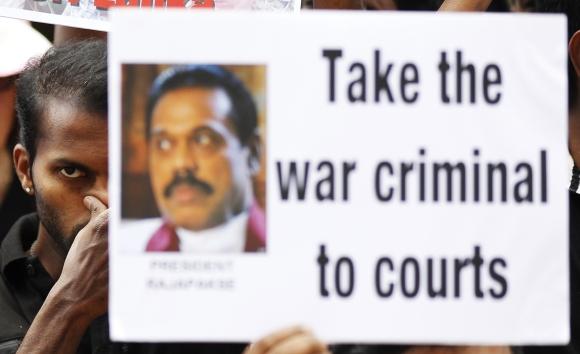 Has Congress scored a self-goal for its victory prospects in Tamil Nadu with India abstaining from voting in favour of a US-sponsored resolution against Sri Lanka in UNHRC for alleged human rights violations?

The answer seems to be 'yes' since party veterans themselves are questioning the move in the backdrop of the April 24 Lok Sabha polls, even as their hopes of a possible tie-up with Dravida Munnetra Kazhagam seem to have dashed with its chief M Karunanidhi virtually shutting the door despite extending an olive branch.
Having supported previous such initiatives, India's abstention on grounds that the resolution was 'intrusive' and affected its southern neighbour's sovereignty has failed to cut ice with the Congress' state unit since it is aware of the political implications behind the emotive issue.
Senior leaders and Union Ministers P Chidambaram and G K Vasan have already made their displeasure known, even as lower level leaders fear the issue could be used against the party by rivals in the electoral battle, which is already witnessing a multi-cornered contest.

Congress after a long time is facing the polls by itself and the leaders had put up a brave face after DMK and Desiya Murpokku Dravida Kazhagam spurned offers of alliance. However, signs of discomfort cannot miss the eye now.
Chidambaram minced no words when he said India should have supported the resolution even it was a watered down one.

"It is my personal opinion. Twenty three countries had supported it and we also should have supported even if it was a watered down one; whether it was a strong or weak one," he had said.
Vasan, the first state unit Congress leader to publicly announce his decision to not fight the elections and someone who had been raising the Sri Lankan Tamils issue often with the Centre and PMO in particular, said that while government may defend its decision, there "is no second opinion on (alleged) human rights violations."
"Political leaders in Tamil Nadu, including those from Congress have time and again expressed our views (that there were human rights violations). (India's abstention) has resulted in agony and shock for a majority of Congress leaders and workers in the state," he said.
DMK chief M Karunanidhi, who had last week extended an olive branch to Congress, proposing a possible alliance if the 'ungrateful' ally apologised, had later sought to distance himself from the party, saying India's decision to abstain from voting amounted to the ruling Congress shutting the door itself on Tamils.

CPI-M leader T K Rangarajan was no less kind to Congress and responded in the affirmative when asked if the issue would boomerang on itself in the polls.
"Congress is already discredited and this is only going to add (to its woes)," the Rajya Sabha member told PTI.
He questioned the very authority of the Centre to take such a policy decision when it was a 'minority government' and suggested that it should have held an all-party meeting to chalk out its strategy.
While AIADMK has not officially reacted on this topic, its general secretary and Chief Minister J Jayalalithaa has, however, been very critical of Congress on the Sri Lankan Tamils issue.

The undercurrent of her campaign has been strident criticism of Congress and DMK on issues ranging from the economy to foreign policy.
Targeting Congress on this emotive issue, she has been reminding the electorate that the UPA government has not acted on any of the Tamil Nadu assembly resolutions, including calling for sanctions on Colombo till Tamils are ensured rights on par with majority Sinhalese.
However, Congress leaders are still confident of putting up a good show, as Chidambaram believes that the 'surprises' a multi-cornered electoral battle throws up could salvage Congress pride.
Vasan is trying to cheer his supporters, saying the party's going alone itself is a matter of strength.