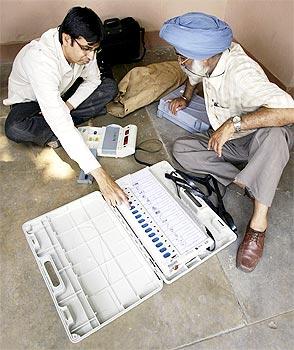 The Supreme Court on Monday sought the response of the Election Commission on a plea seeking stoppage of ward-wise counting of votes on the ground that the declaration of result of every polling booth strikes at the root of right to privacy attached to voting.
A bench comprising justices Dipak Mishra and N V Ramana issued a notice to the EC and sought its reply by May 21 on a proposal that the result of every parliamentary constituency be declared as a whole and not through ward-wise counting of votes of every electronic voting machine. The petition said, "The result of every EVM must not be disclosed."
The bench was hearing a public interest litigation filed by Punjab-based advocate Yogesh Gupta submitting that "the uniform way of declaration of result for the entire constituency as a whole would bring balanced growth and balanced funding and it would also reduce cases fuelled by political vendetta, ill will and hatred".
Complete Coverage: Elections 2014
The petition, which has come four days ahead of the counting of votes for ongoing Lok Sabha election, said the result is again going to be declared by announcing the outcome of every EVM, which would lead to adverse impact on the voters as the political parties would harass the electorate in areas where it did not receive votes.
To buttress his contention that an amendment in the system would reduce intimidation and blackmail tactics, the lawyer cited reported threats by Maharashtra Deputy Chief Minister Ajit Pawar to residents of Baramati village on the eve of polling that he would cut off water supply if they did not cast their ballot in favour of his cousin and sitting NCP member of Parliament Supriya Sule.
"In the present form of declaration of result the political parties would become aware of the wards where they have not been voted and where they have got maximum votes," the petition said, adding that "the present form of declaration of results also acts as a catalyst for the registration of false cases based on political vendetta against the persons who have not voted for the victorious parties".
The advocate submitted that the proposed manner of declaration of results of every parliamentary constituency as a whole would go a long way in restoring the right of privacy as the political parties will not be able to find out the number of votes cast in their favour from different wards and the political parties would only get information regarding the votes cast in the entire constituency.
Image: Poll officials checking the electronic voting machines. This image is used for representational purposes only.