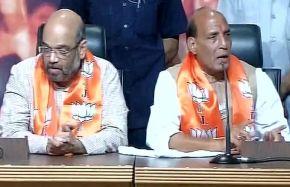 An elated Bharatiya Janata Party president Rajnath Singh on Friday credited the people who voted for a change and the leadership of Narendra Modi for its spectacular performance in Lok Sabha poll, saying 'it is the beginning of a new era'.
"I am happy and satisfied. It is the people's mandate for change. This mandate is for Narendra Modi's popularity, capability and credibility. With this result, it is the beginning of a new era... Time has come to re-write the Indian success story," he said.
Complete Coverage: Elections 2014
On the future role of senior party leaders like L K Advani, he said a decision on it will be taken after the meeting of BJP parliamentary board. "We will all sit together and discuss and decide on the responsibility to be entrusted to all leaders. Whatever decision is to be taken will be taken with consensus and after discussing with everybody," Singh said.
He brushed aside reports about dissensions in the party as speculative and baseless and claimed the party stood united. "The reports about differences over leadership are baseless," he said.
On cabinet formation, he said "It is the prerogative of the prime minister and we will discuss all these issues after we sit together."
Praising Advani, Rajnath said "As far as Advaniji is concerned, he is not only our leader but we treat him as our guardian. The party was taken to the heights it has reached today is because of Atal Bihari Vajpayee and Advani."
The BJP chief said that despite getting a majority of its own, the party will form a government with all its allies. Rajnath Singh said the party won the election on its agenda of good governance and development even though many parties tried to divert the attention of the people from it. "No one can win an election like this on negative issues and negative agenda. Our proven track record of good governance helped us get the mandate," he said.
Image: BJP's Amit Shah and Rajnath Singh address a conference.