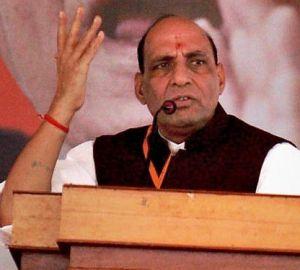 As part of meetings to discuss the Bharatiya Janata Party's post-poll strategy, party President Rajnath Singh met Rashtriya Swayamsevak Sangh leader Suresh Soni.
Sources said the party is considering drastic changes in the organisation in the wake of its possible government formation.

Special Coverage: Election 2014
Besides revamp of the party, Rajnath and Soni, who is RSS pointsman for the BJP, discussed the political situation that is likely to emerge after Friday's results and roping in of some more allies.
The BJP has already made it clear that its doors are open for any party supporting its agenda.
The meeting at Rajnath's residence was also attended by BJP leaders taking care of the organisation including party's organisational general secretary Ramlal.
The meeting comes close on the heels of Rajnath's meeting with BJP's prime ministerial candidate Narendra Modi in Ahmedabad on Wednesday where other senior leaders Arun Jaitley and former party chief Nitin Gadkari were also present.
While the BJP top brass is working out roles for party veterans including L K Advani and Murli Manohar Joshi in the next government, it is also working on changes within the party that includes the change of guard steering the party.
Sources said in case Rajnath is given a ministerial berth, then the reins of the party will be handed over to someone else and the name of Gadkari is doing the rounds.
The meeting comes ahead of counting of votes in which the BJP and National Democratic Alliance are projected to win a majority by various exit polls.

Image: BJP chief Rajnath Singh