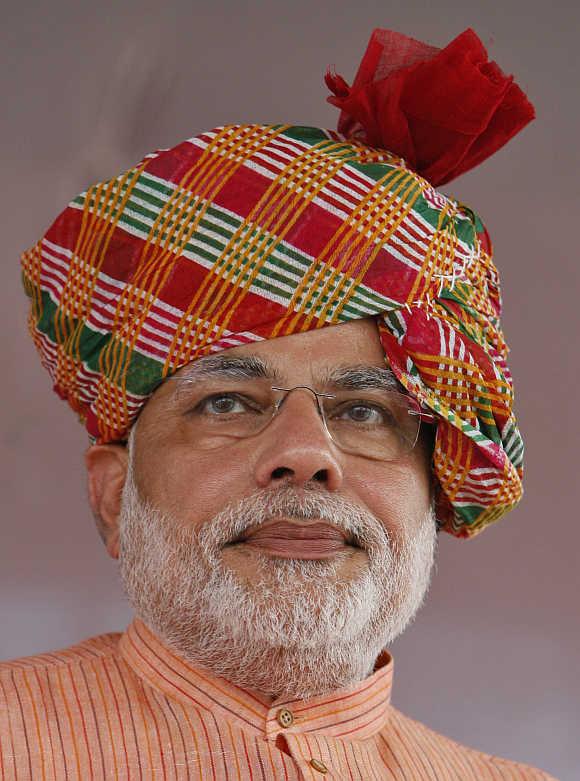 Bharatiya Janata Party's prime ministerial Narendra Modi on Friday said that, if voted to power, he would give priority to preventing corruption in future before addressing the old cases and would be ready to face investigation if charges are levelled against him "professionally".
He also talked about dealing with criminalisation of politics, saying his government would ask the Supreme Court to create a mechanism to fast-track pending cases against lawmakers. During an interview to CNBC Awaaz, Modi insisted that he would not make any special appeal to any community for votes as he believes in oneness of all the 125 crore people of the country and would not mind defeat at the hustings in the process.
Describing corruption as a "disease", Modi said he would put in place a mechanism by which corruption could be prevented. "My priority will be develop a system by which the scope of corruption is minimised. We have to decide either I should concentrate my efforts on preventing new corruption or to clean up the old mess. My conscience says that my focus should to be ensure that new mess (of corruption) is not created," he said.
"We have to decide whether I should focus my energy on preventing new corruption or waste time on cleaning up old mess," he added.
"If I create such a mechanism which has technology and transparency and all the preventive measures, we will address jointly the issue of corruption. That should not be political, otherwise the cause will be defeated and this disease will continue to increase," he said.
In case charges of corruption are levelled against him in the capacity of prime minister, Modi said, "Professionally if there are any allegations against me, those cases should get stuck but should continue. Modi should stop them."
Sibal, who was repeatedly asked about the controversy surrounding land deals of Sonia Gandhi's son-in-law Robert Vadra, said that if anybody has something to prove he can take the recourse of the law.
"If anybody has been given anything wrongly, who can stop anyone (from taking legal recourse). There are laws. You do it if you have proof. Here I am giving you documents. When there are allegations against, you show it," he said replying to questions on controversial land deals involving Congress leaders and Vadra in some states.
Referring to expelled BJP leader Jaswant Singh's remarks about "real" and "fake" BJP, he said, "I am asking is it about real Modi or fake Modi of only speeches" and added that while he gives "sermons" to the world on black money, does he take action when it happens in his backyard or involving Ramdev.
He also also posed questions about poll expenses in Modi's campaign blitzkreig. "From where these thousands of crore of rupees are coming. I want to ask Modi why he is silent on black money as elections are on."
Maintaining that no bootlegging can be possible without the support of the police, Sibal said that it is Modi, who looks after the Home portfolio in the state and hence, decides the deployment of police officers in the state.
"All the bulk transfers from Sub Inspectors and above in executive posts are all done by the home department headed by the home minister, who is the chief minister himself. These are hotbeds of favouritism and logically money transactions," he said.
Asked whether Congress was raising the issues too late in the day as half of the Lok Sabha polls were already over, he said, "We have been raising the matter for long but the problem is whatever we say hardly gets media coverage while whatever they say become headlines."
Accusing Modi of "not knowing statistics", he said that while Gujarat is described as number one state, Tamil Nadu Chief Minister J Jayalalitha has said that her state has got more FDI than Gujarat.
He also said that people of the country will not forgive him for the 2002 Gujarat riots even he seeks any apology.