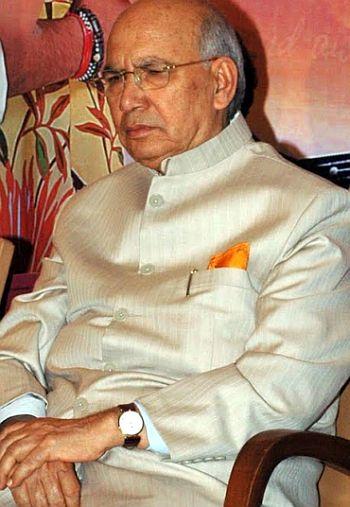 Fearing what lies ahead if the Congress-led United Progressive Alliance loses power, it is believed that 19 governors appointed by it are considering putting in their papers. Karnataka's Hansraj Bhardwaj has already submitted his papers and is awaiting clearance from the party high command, reports a correspondent.
With the poll results just four days away and the possibility of a new government being formed very likely, governors appointed by the United Progressive Alliance government are spending sleepless nights.
At present, 19 Congress leaders serve in gubernatorial positions and some of them are discussing what lies ahead for them if the party loses and the Bharatiya Janata Party and allies come to power.
Hansraj Bhardwaj, the governor of Karnataka, has already submitted his resignation to the Congress high command, asking to be relieved of his duties. However, according to sources, he has been asked to wait till the poll results are announced. Similarly, Kamala Beniwal, the governor of Gujarat, is also mulling his future.
In the case of Bhardwaj and Benilal it will be interesting to see what happens if they continue as governors in their respective states if the BJP comes to power, as both of them were considered to be anti-BJP. Bhardwaj was accused of playing a proactive role against the BJP government in Karnataka while Benilal has often taken on Gujarat Chief Minister Narendra Modi on several issues.
Sources within the corridors of power claim that 19 Congress-appointed governors will submit their resignations soon after the Lok Sabha results are announced.
Sources added that besides these 19, the remaining 10 governors were drawn from bureaucratic circles and they can continue in their position, as there has been no diktat issued to them from the Congress high command.
The list of the 19 Congress leaders who serve as governors are Janaki Ballabh Patnaik (Odisha), DY Patil (Bihar), Kamala Beniwal (Gujarat), Jagannath Pahadia (Haryana), Urmila Singh (Himachal Pradesh), Syed Ahmed (Jharkhand), Hansraj Bhardwaj (Karnataka), Sheila Dikshit (Kerala), Ramnaresh Yadav (Madhya Pradesh), K Sankaranarayanan (Maharashtra), Vakkom B Purushothaman (Mizoram), S C Jamir (Odisha), Shivraj Patil (Punjab), Margaret Alva (Rajasthan), Konijeti Rosaiah (Tamil Nadu), Devanand Konwar (Tripura), Banwari Lal Joshi (Uttar Pradesh), Aziz Qureshi (Uttarakhand) and Virendra Kataria (Puducherry).
Image: Hansraj Bhardwaj, the governor of Karnataka, has already tendered his resignation.