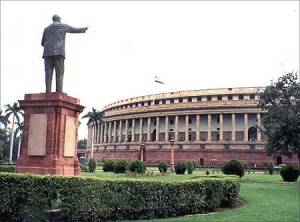 The Lok Sabha secretariat has informally prepared a schedule for the newly elected members of Parliament and the President's address.
President Pranab Mukherjee is set to address the newly elected members of Parliament on June 4, according to a tentative schedule kept as a ready reference for the new prime minister and the new parliamentary affairs minister.
There could be a minor changes of dates to suit to the convenience of the newly elected prime minister. But broadly, the dates would be set in the following pattern according to a highly placed source in the government.
The 16th Lok Sabha has to be convened before May 31. This is because the 15th Lok Sabha was convened on June 1, 2009, and its five-year tenure would end on May 31, 2014. Hence, the swearing in of the new government and the convening of the new Lok Sabha must happen before that.
The tentative schedule:
Arrival of the newly elected members of Parliament to start from May 17.
The 16th Lok Sabha to commence from May 27.
The swearing-in of 542 MPs to take three days.
The Pro-tem Speaker to be sworn in by the President on May 26 at Rashtrapati Bhavan.
Election of the new Speaker of the Lok Sabha to be held on June 2.
The President to address the joint session of Parliament on June 4.
The Lok Sabha secretariat has made elaborate arrangements to welcome the new MPs at Delhi airport and railway stations and transport them to their accomodation.
State bhavans and guest houses have been reserved for the new MPs. In addition, three-star hotel rooms have also been reserved in Delhi.
Other formalities:
18 to 20 forms need to be filled in by the newly elected MPs for their biometric entry card for Parliament.
Oath of affirmation: The language in which these MPs would like to be sworn in.
Letters for house accommodation to be distributed.
Central Government Heath Scheme forms to be filled in.
Photographs to be taken of the spouses of the newly elected MPs.