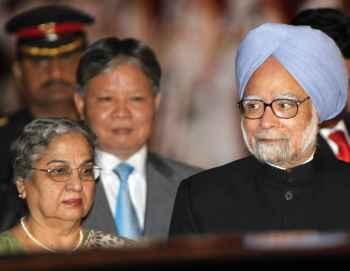 Manash Borah, the Congress candidate in Gauhati Lok Sabha constituency, has reasons to feel special for two reasons.
Firstly he won his candidature after being nominated by local Congress office-bearers at a primary round -- a pet project of party vice president Rahul Gandhi.
And secondly because Prime Minister Manmohan Singh is a voter in his constituency who is scheduled to arrive in the city on April 24 to cast his vote along with his wife Gursharan Kaur.
Special Coverage: Election 2014
Dr Singh has been a Rajya Sabha member from Assam since 1991 and his official records and affidavits mention his permanent address as House Number 3989, Nandan Nagar, Ward No 51, Sarumataria, Dispur, Kamrup (Metropolitan) district.
Dr Singh is a tenant in the residential complex of Dr Hemo Prabha Saikia, a senior Congress leader and former minister in the state government besides being the widow of Late Hiteswar Saikia, former chief minister of Assam.
It was Hiteswar Saikia who rented out the particular house to Dr Singh in 1991 when he was elected to Rajya Sabha from Assam for the first time.
City senior superintendent of police A P Tiwari informed that Special Protection Group personnel were to oversee security arrangement for the prime minister's visit.
The prime minister and his wife will cast their ballot at polling booth no 156 at Dispur government high school. They will return to Delhi the same day.
Dr Singh and his wife had cast their votes in Guwahati during the 2009 Lok Sabha polls but did not come to vote during the assembly election in 2011.
Image: Dr Manmohan Singh with his wife Gursharan Kaur
Photograph: Reuters