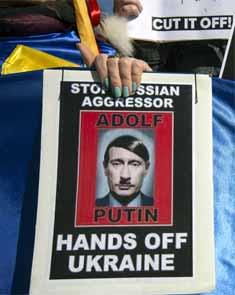 Nisha Desai Biswal, Assistant Secretary of State for South Asian Affairs in the Obama administration, has strongly asserted that India's support for Russian President Vladimir Putin's actions in Ukraine and Moscow's annexation of Crimea should not be conflated with the row over diplomat Devyani Khobragade.
She also acknowledged that the Khobragade controversy was a rough patch in the diplomatic relations between India and the United States.
In a brief interaction that followed her keynote address to the Legislative Conference of the American Association of Physicians of Indian Origin on Capitol Hill on Thursday, Biswal said, "First of all, I would not conflate the two in any way at all".
'There is absolutely no linkage in our mind and I am fairly certain in the Indian mind," she said.
Biswal said, "With respect to the diplomatic incident, I would say that the way that unfolded was most unfortunate," and noted that "our Secretary (of State John F Kerry) indicated his regret. (But) At the end of the day, there were some real and substantive issues".
'These are issues that are continuing to be resolved, but we have resumed a very strong dialogue with our Indian counterparts on addressing issues with respect to management and administration of our people and our institutions in each other's countries," she explained.
Biswal said, "That is a very positive track, and so I am confident about what we are doing in that channel".
But then -- apparently alluding to Delhi's support for Putin on Ukraine -- she observed, "The United States and India will have areas where we see eye to eye and we will have areas where we will have different perspectives, different relationships, and different positions".
But then she slammed Russia for its invasion of Crimea and the violation of Ukraine's sovereignty saying, "We certainly feel strongly that the action that Russia has undertaken in the Ukraine constitutes flagrant aggression and violation of international law and international norms".
Biswal said, "We would hope that that is a position that is supported widely in the international community," but acknowledged, "At the end of the day, countries have to make their own decisions on these issues, and we work with our friends and partners across the world to make sure that they fully understand our perspective on these issues".
Dr Sampat Shivangi, co-chair of AAPI's Legislative Committee and the president of the Indian American Forum for Political Education, tried to bring up the fact that Khobragade has been re-indicted by the Indian American New York US Attorney Preet Bharara and asked Biswal if "any diplomatic solution can be found".
He was shouted down by the rest of the AAPI hierarchy, who told him that this was not an appropriate forum for such a discussion.
Shivangi then beat a hasty retreat and apologised to Biswal for pursuing this line of questioning.
Image: A protest against Russian President Vladimir Putin ' Photograph: Reuters