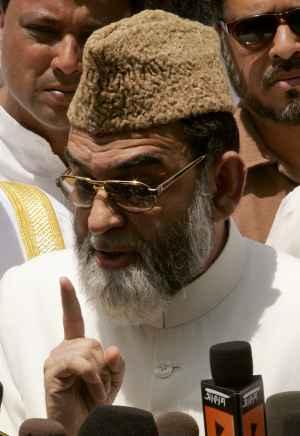 Bukhari also backs Trinamool Congress but says no support to SP and BSP. Kavita Chowdhury reports.
Syed Ahmed Bukhari, the Imam of Delhi's Jama Masjid, soon after the juma prayers on Friday, publicly announced his support to the Congress "to ensure secular votes are not divided".

Bukhari had met Congress President Sonia Gandhi, raising the hackles of the Bharatiya Janata Party, which accused the Congress of trying to "polarise" the elections. It even lodged a complaint with the Election Commission.

However, it is not only the BJP that is objecting. Sections within the Congress' prominent Muslim faces are livid at the party's move.

Talking to mediapersons, Bukhari said he was supporting the Congress because the nation was in danger from communal forces. "We should ensure secular votes are not divided."

However, in 2004, he had lent support to the BJP in the first polls after the 2002 Gujarat riots.

Bukhari added he would also support the Trinamool Congress in West Bengal. He, however, clarified he would not support the Samajwadi Party and Bahujan Samaj Party, as both parties had let Muslims down.

He held the SP "responsible for the Muzaffarnagar riots" and described the BSP as an "opportunistic" party. "Supporting regional parties will be a waste of vote."

Although political parties acknowledge "tactical voting" by Muslims, they are doubtful about the Imam's hold over the community, even in Delhi. Chandni Chowk sitting MP Kapil Sibal has been winning without the Imam's support. Shoaib Iqbal, an Independent MLA, has recorded victories even after Bukhari having publicly appealed for people to vote against him.

"As he changes his political loyalties frequently, not many take him seriously within the community," says a Congress leader.

Many Congress leaders with whom Business Standard spoke to were livid at Sonia Gandhi hobnobbing with the Imam. "This sends a wrong message which will benefit the BJP's prime ministerial candidate, Narendra Modi. If the Congress is perceived to be seeking the help of mullahs and maulvis for votes then will not Hindus en masse move for the BJP?" asked a seasoned Muslim parliamentarian of the Congress.

Congress' Rashid Alvi, however, asks, "Why is the BJP now objecting to the Imam supporting the Congress? The fact is that in 2004, the Imam supported the BJP. When his support then was not objectionable, why is his support now to the Congress wrong?"

Sources say former party spokesperson Meem Afzal had organised the meeting between the Imam and Sonia. The move was supported by Muslim leaders like Mateen Ahmed, who saw in it an opportunity to consolidate Muslim votes in a constituency like Chandni Chowk, which has 20 per cent voters belonging to the minority community.

While acknowledging this as a "deeply problematic" move, Zoya Hasan, political scientist currently National Fellow ICSSR speaking to Business Standard questioned the "double standards" of the BJP. "Mobilising political support through Muslim fundamentalist leaders or Hindu communal leaders has no place in a secular polity.
Congress President Sonia Gandhi should have avoided meeting Imam Bukhari. Muslims should ignore Imam Bukhari and vote for whomever they want in the interests of strengthening secularism and pluralism. In a secular polity, political parties should keep a healthy distance from religious leaders."