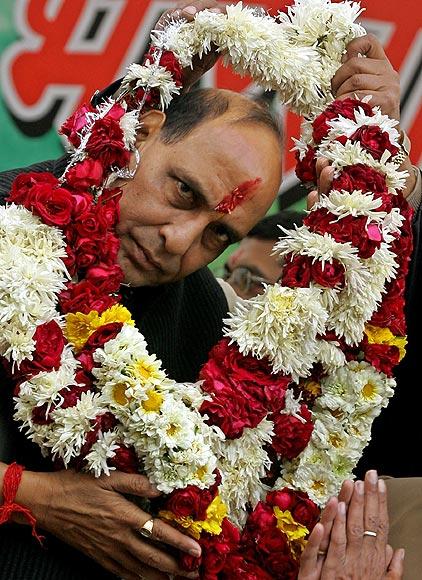 Even after giving five rounds to former prime minister Atal Behari Vajpayee followed by the last round in 2009 to his close lieutenant Lalji Tandon, Lucknow is now all set to give a rough ride to Bharatiya Janata Party president Rajnath Singh, who has taken the plunge after forcing Tandon's exit from here, says Sharat Pradhan.
Even as Samajwadi Party supremo Mulayam Singh Yadav has discreetly facilitated Rajnath by replacing a seasoned Ashok Bajpai with Abhishek Misra, a political novice, Rajnath is not likely to have smooth sailing here.
Of all political outfits in the fray for this prestigious constituency, the challenge for the all important and powerful BJP candidate comes from none other than his Congress rival Rita Bahuguna Joshi.
Handpicked by the Congress high command for the second time, she was seen as the best bet for the party whose fortunes appear to be dwindling rapidly. Rita had lost to BJP veteran Tandon in 2009 by a margin of about 37,000 votes but the fact that she did manage to poll as many as 1,63,000 votes and remain the closest contender was no mean accomplishment. And sure enough, that was the highest that any Congress nominee had polled in Lucknow ever since Vajpayee strode in here.
Evidently, the Bahujan Samaj Party had given up on Lucknow right from the beginning as party supremo Mayawati had not cared to find a tough candidate. Nakul Dubey, a lawyer-turned-politician who was urban development minister in the Mayawati government from 2007 to 2012, has failed to build any profile for himself.
Other than the traditional BSP vote, he was unlikely to get support from any other quarter. Those who were anxiously awaiting for the Aam Aadmi Party to spring a surprise challenge for Rajnath, were thoroughly disillusioned when the party announced the nomination of Bollywood actor Javed Jaffery.
"We were hoping that AAP will come up with a big name for Lucknow, where the party had built an incredible base. But despite being a talented actor, Jaffery is not someone with any mass appeal -- other than for kids for whom his TV show is a great attraction. And kids do not vote," chuckles a university professor who until recently was a strong AAP supporter."If the party could not get a celebrity, then I wonder why they could not find a good local candidate from among some well-known trade-union leaders those whose names were doing rounds," he added on the condition of anonymity.
Until a week ago, when the SP's original choice Bajpai was in the scene, he was regarded as the strongest contender. Apart from being a veteran Samajwadi leader, his long experience as minister and parliamentarian, his high educational background and above all his spotless image were his key strength, which he had reinforced with his tireless campaign over the past 16 months, since he was named as the SP nominee.
However, after Bajpai's abrupt exit, who was seen as a strong SP candidate, Rita has once again emerged as the key contender against Rajnath. The common perception that Bajpai's sudden replacement at the eleventh hour -- after 16 months of campaigning -- was the outcome of some kind of "underhand deal" between Rajnath and the SP, could have serious repercussions as far as the Muslim vote is concerned.
It is alleged that Rajnath had already done a quid pro quo with the SP by fielding a relatively 'weak' candidate against UP Chief Minister Akhilesh Yadav's wife Dimple in Kannauj, from where she got elected unopposed in a bye-election in 2009. Rita has already begun to spread the word about this 'underhand deal'. And sure enough, that is bound to pay her electoral dividends. She already enjoys much goodwill with the minority community, particularly because of her lineage.
Her father was Hemwati Nandan Bahuguna, a former UP chief minister, who enjoyed tremendous credibility with the Muslims. If she succeeds in consolidating the Muslim vote in favour of the Congress, she could pose a threat to Rajnath, who may also not gel with the sizeable number of Brahmins in the city.
His strong 'pro-thakur' image may come in the way of enlisting support of Brahmins, who were quite put off with him because of his role in pushing away two prominent Brahmin BJP leaders -- Murli Manohar Joshi and Kalraj Misra -- from the respective constituencies of their choice to new turfs.
While these hurdles may be overcome because of the Modi factor that could transcend over caste in the final run, it cannot be denied that Lucknow is not going to be any smooth sailing for the BJP chief.