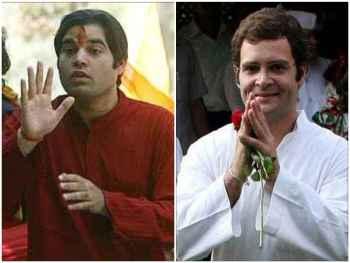 In a rare show of bonhomie between estranged cousins, Bharatiya Janata Party's Varun Gandhi 'praised' Congress vice president Rahul Gandhi for his efforts towards empowerment of women in Amethi, reacting to which the Congress vice president said he was happy to receive the appreciation.
Addressing a group of teachers in Sultanpur on Tuesday night, the BJP candidate from the Lok Sabha seat said Rahul is doing good work through his self-help groups for ameliorating the status of women in his parliamentary constituency Amethi and added that he would like to do the same in the district.
Asked to respond to Varun's remarks, Rahul, who was in Rae Bareli to accompany his mother Sonia Gandhi who filed her nomination papers, said "Varun sahi kah rahe hain" (What Varun is saying is right).
However, later Varun clarified that his comment should not be seen as an endorsement of any party or candidate, CNN IBN reported.
"My comment, last night, in a meeting with teachers and NGOs, in response to being asked whether I knew about initiatives in Amethi, was that although I had not seen the work done via self help groups in Amethi, I had heard it was fairly decent, and that I would stress. It should not be seen as an endorsement of any political party or candidate," Varun said
"We have been working continuously in Amethi according to a strategy... we have laid foundation of education hub.. done work for farmers .... got a food park... what Varun is saying is right," he said.
"I am very happy that others are appreciating the work being done in Amethi. (We are) doing (work) as per a strategy... connecting farmers to the world. (We) will continue to work in the field of agriculture, education," Rahul said.
On the impact BJP candidate Smriti Irani could have in the contest to Amethi Lok Sabha seat, Rahul said "it is for the people of Amethi to respond".
Image: Varun Gandhi and Rahul Gandhi