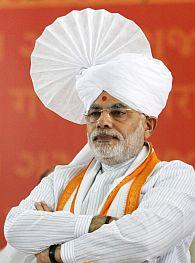 The Bharatiya Janata Party's prime ministerial Narendra Modi on Thursday brought Robert Vadra in the line of fire on controversial land deals, asking Rahul Gandhi whether his brother-in-law would be asked to act as 'chowkidar' (watchman) to guard peoples' land.
Addressing election rallies in Kurukshetra, Ghaziabad and Gurgaon, Modi raised the pitch against Rahul and also Sonia Gandhi, who he accused of resorting to "rabid communalism" by appealing to Muslim leaders to ensure their votes are not split and sought Election Commission's action in this regard. Taking a dig at Rahul in Kurukshetra in Haryana, Modi said "Shehzade" has been talking about the need for all countrymen to act as 'chowkidar' over its resources and asked if his brother in law (Vadra) would also be one of those keeping guard.
Vadra, who has drawn fire over his controversial land deals in Haryana and Rajasthan, has denied any wrongdoing. Modi asserted that new laws would be framed to bring back black money stashed abroad if the BJP comes to power while warning that those who have "looted" the country, no matter how powerful, would not be spared.
Against the backdrop of Sonia Gandhi's meeting with Shahi Imam of Jama Masjid Syed Ahmed Bukhari where he said she had appealed to Muslims to vote en bloc for her party, Modi said, "The Congress is sensing defeat. So now, their slogan has shifted from secularism to rabid communalism."
"What she said on Wednesday... I appeal to the Election Commission... Asking for votes on the basis of communalism is against the rules of Election Commission as the polls have been announced," he said. Modi was addressing another public meeting in support of BJP candidates from Indirapuram in UP's Ghaziabad district on the outskirts of the national capital.
"Twenty-four hours have passed and the news has already appeared in the media. Why is EC not taking suo motu action in this regard?" he asked. In Jammu, Chief Election Commissioner V S Sampath said the Election Commission will take cognisance if it receives a complaint on the issue. Modi also sought votes for the candidate from neighbouring Gautam Budh Nagar avoiding the jinxed town of Noida, where there is a popular belief that leaders who visit the town lose their positions.
On Wednesday, Sonia rejected the BJP charge that she was playing politics of communalism saying they were not in the habit and game of polarising elections. "Sonia has made the mistake of trying to mislead and divide the nation. People will never forgive this kind of politics. For Congress, secularism is religion first but for us it is India first," he said.