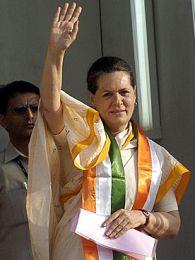 A delegation of Muslim leaders led by Shahi Imam of Jama Masjid Syed Ahmed Bukhari met Congress President Sonia Gandhi in New Delhi during which she asked them to ensure that secular votes did not split in the upcoming Lok Sabha elections.
The meeting, which took place at Gandhi's 10 Janpath residence on Tuesday, lasted for 45 minutes, during which Shahi Imam Syed Ahmed Bukhari apprised her of various issues pertaining to the community.
Sources close to Bukhari said a decision to support Congress has been finalised and an official announcement is likely to come on Friday.
Quick to grab the opportunity, BJP leaders Rajnath Singh, Arun Jaitley and Prakash Javdekar attacked Gandhi saying she was indulging in communal politics.
Sonia Gandhi rejected the BJP charge that that she was polarising the elections, calling it "absolutely a joke".
"We are not in the habit or in the game of polarising the elections," she told reporters when asked about BJP's charge of her playing communal politics.
"During the meeting, issues like innocent Muslim youths being arrested in terror cases, reservation in education, communal riots and security, implementation of Sachar Committee and Ranganath Misra Commission recommendations and anti-communal violence bill were discussed," Jama Masjid spokesperson Rahat Mehmood Chaudhary said.
Gandhi told the six-member delegation that the party wanted to do a lot of things for the minorities but could not. Some central schemes could not be implemented in some states because there were governments of opposition parties there.
"The most important thing she said was that in the current political scenario in the country, secular votes should not split in the upcoming Lok Sabha elections and they should come together to vote against communal forces," he said.
A day before the meeting, Congress leader Rajiv Shukla had met Bukhari and invited the Muslim leaders to meet the Congress president.
An endorsement from Bukhari can be a major boost for Congress which faces a stiff opposition in the Narendra Modi-led BJP campaign in the upcoming Lok Sabha elections, especially in Uttar Pradesh where a number of seats have sizeable Muslim population.
Muslims have been a traditional support base for Congress but of late it has drifted toward other parties. More recently in the Delhi Assembly elections, AAP had eaten up into a large chunk of minority votes leaving Congress decimated.
On February 22, a meeting of around 350 delegates from across the country was held at Jama Masjid to discuss which party the community should support in the upcoming Lok Sabha elections.
Following the meeting, Bukhari had constituted an 11-member committee to assess the performance of various parties and their attitude towards Muslims.
Members of the committee visited several states and held meetings with political leaders and finally submitted a report on March 31.
Bukhari had supported the Samajwadi Party during Uttar Pradesh elections in 2012 but their relation fell apart apparently after his son-in-law Umar Ali Khan was not given any prominent position in the party.
The influential Muslim cleric had also criticised SP for the way it handled the Muzaffarnagar riots.
Image: Congress president Sonia Gandhi