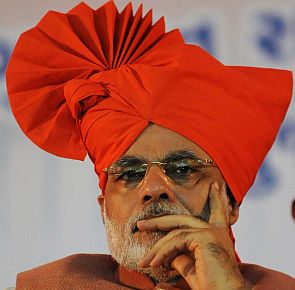 Bharatiya Janata Party prime ministerial candidate took a swipe at Sonia Gandhi for her televised appeal, saying it reflected her realisation that her son Rahul had not delivered on the election front.
"All of a sudden Sonia Gandhi has come to the fore to take charge of the election campaign. She thought that her son would do something but nothing happened. What could she do? The mother herself, came to the fore, appeared on TV to deliver advertised messages to the nation," said Modi.
He added, "You must have seen this paid news. They have lots of money, they can buy TV (channels), they can buy time on TV and tell us what they want to say."
Further slamming the Congress chief, Modi said that when she said her party respected democratic traditions, it was something he could not digest easily.
"In 2004, when your (Congress) government was formed, what was your first action? Without following any democratic practice or consulting any chief minister, you removed governors. Is this a sample of you honouring democratic traditions,?" he asked.