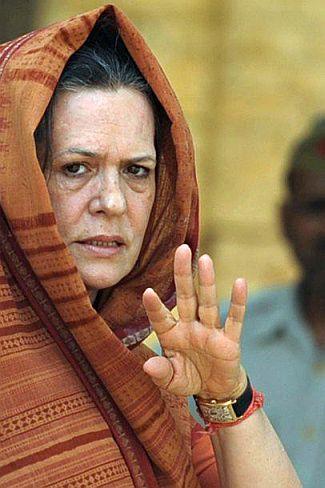 Terming the Lok Sabha elections as a battle between two completely different ideologies, Congress president Sonia Gandhi on Monday alleged that the Bharatiya Janata Party was dancing to the tune of the Rashtriya Swayamsevak Sangh whose "parochial and extremist" thought was aimed at dividing the society.
Wooing the Muslims, she said the Congress government has taken "historical" measures such as carving out a separate ministry for the welfare of minorities and launching National Wakf Development Corporation while putting a special emphasis on empowering women from the community.
One one hand, the Congress president said at an election rally, stood the Congress which has been led by the likes of Mahatma Gandhi, Maulana Azad and other such greats whose sacrifices are there for people to see.
"There is another ideology which dances to the tune of an organisation whose parochial and extremist ideas spread division in the society. It breaks values and customs which we have preserved for centuries.... I am sure you won't be misled by them and hand them over a resounding defeat," she said.
Without naming the BJP and the RSS, she said they believed in foisting their narrow ideology on the country in the name of unity. Sonia said her party alone was capable of providing a stable and strong government, which the country needed, and the BJP's ideology will harm the people and the country.
Attacking the Samajwadi Party-led Uttar Pradesh government, she said the Centre made abundant funds available to the state for enhancing its power supply but it has failed to provide electricity available in villages.
The Congress, she said while quoting from its manifesto, would provide free health care to people and provide vocational training to youths so that they could easily get employment.