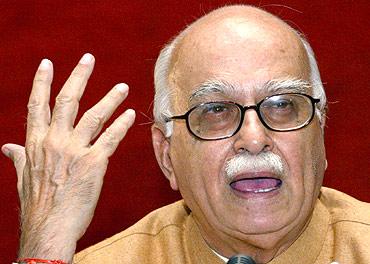 Bharatiya Janata Party patriarch L K Advani has refused to contest the forthcoming Lok Sabha polls from Gandhinagar, defying the express wishes of the party high command in general, and BJP's PM candidate Narendra Modi in particular.
The 86-year-old leader has argued that since most of the senior party leaders were giving their preferences of seats, he too should be allowed to make a choice.
Advani is likely to contest from Bhopal. Advani is learnt to have informed party chief Rajnath Singh about his preference for the same, sources said. The decision, however, has been left to the party.
Significantly, Advani skipped Wednesday's crucial meeting of Parliamentary Board in New Delhi where senior party leaders including Singh and Modi are learnt to have discussed the issue.
His desire to shift from Gandhinagar may be seen as a reflection of the unease in his relationship with Modi. Advani is not in the best of terms with Modi after he opposed the Gujarat chief minister's anointment as BJP's PM candidate.
The sources said if the party decides to field Advani from hopal, Modi's confidante and former state minister Amit Shah may be given ticket from Gandhinagar.
Meanwhile, Modi, who will contest from the holy town of Varanasi, is also likely to contest from another seat in Gujarat at the behest of millions of supporters from his state. The Gujarat strongman is likely to contest from Baroda.
Advani, who was the Deputy Prime Minister in the National Democratic Alliance government, has said he has no problems in contesting from Gandhinagar as such but was keen on contesting from Bhopal as he considered it a safer seat, the sources said.
The party is insisting that Advani should contest from Gandhinagar as his shifting of constituency will send "wrong signals", the sources said. Meanwhile, sitting Bhopal Member of Parliament and BJP veteran Kailash Joshi said he is not keen on contesting from the seat and he had offered the seat to the BJP patriarch.
With inputs from PTI