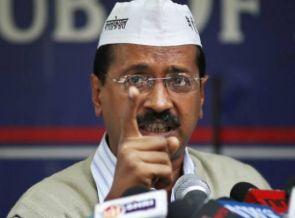 Raking up the snoopgate scandal and Robert Vadra controversy, Arvind Kejriwal on Tuesday accused both the Congress and the Bharatiya Janata Party of having a tacit pre-poll understanding and not taking any action against each other on the two issues.
He also asked why Congress President Sonia Gandhi and BJP Prime Ministerial candidate Narendra Modi had not campaigned in each other's constituencies.
Targeting the Gujarat Chief Minister, Kejriwal said, "Narendra Modi should clarify his stand on Vadra issue. If BJP is really serious on this issue, why BJP-led Rajasthan government doesn't register an FIR against him.
"BJP and Congress have joined hands. They just pass comments against each other, but their party-led governments don't take action against their 'men'," he told reporters in Varanasi.
"If I could register an FIR against Sheila Dikshit and Mukesh Ambani, why BJP-led government cannot register an FIR against Vadra in the last four months in Rajasthan," he asked.
Going on to target Congress, Kejriwal said, "If Congress-led UPA government is really serious on Adani issue, so why doesn't it ask CBI to probe his role. They (BJP and Congress) don't do nothing, but only pass comments against each other."
The AAP leader accused both the parties of having an understanding.
"It has been four months since probe in the snoopgate scandal was handed over to CBI. If CBI wanted, Modi would have been arrested. BJP and Congress have their deals," he charged.
Referring to Modi's remarks on the issue of taking action against Vadra, he charged, "There is an internal setting between Congress and BJP".
Modi had recently said there will be no witch-hunt against Vadra
Condemning the attack on his party volunteers here, he alleged that BJP "goons" were trying to create an environment of fear among the people of Varanasi and also among AAP supporters.
The former Delhi chief minister alleged that BJP workers were beating AAP supporters in different parts of Varanasi.
"Violence is not the culture of Varanasi. BJP is creating an atmosphere of terrorism in Varanasi. They (BJP) threaten AAP supporters. BJP workers also tore posters of AAP installed on autos," he charged.
Kejriwal claimed that Modi will lose the elections from Varanasi seat so this is BJP's 'baukhalahat' (restlessness) that they are resorting to such physical attacks.
"Earlier these attacks were confined to me but now BJP goons are targeting AAP supporters. If this is the kind of situation before elections then what will happen after elections if even by mistake Modi wins from here. Imagine what kind of situation will be there in Varanasi and this country," he said.
"I want to tell them that we will not get scared by such attacks and fight for the country to save the culture of Varanasi and country," he said.
He demanded that central forces be deployed in Rohania and Sevapuri constituencies of the city as people in villages might be "stopped from voting".
"It's the feedback that we have got from villages in both these constituencies," said Kejriwal.
He also said that if need be, central forces must be deployed in the rest of the city so that people can go to vote freely and free from any fear of BJP.