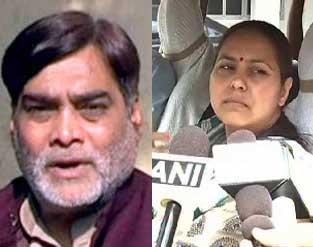 The prestigious Pataliputra Lok Sabha seat will witness a contest between BJP's Ram Kripal Yadav, the long-time confidante of Lalu Yadav who recently quit RJD and joined the saffron front, and Lalu's eldest daughter Misa Bharti. M I Khan reports from Patna.
It is official now: the Pataliputra Lok Sabha seat in Patna is going to witness a contest between chacha (uncle) and bhatiji (neice) after rebel Rashtriya Janata Dal leader and party chief Lalu Prasad Yadav's close confidante Ram Kripal Yadav joined the Bharatiya Janata Party on Wednesday. Ram Kripal Yadav will now contest against Lalu's eldest daughter Misa Bharti, the RJD candidate.
Misa Bharti, who failed to meet Ram Kripal Yadav in Delhi last week to request him to allow her to contest from the Pataliputra seat, had said emotionally then that he was like her 'uncle'. But Ram Kripal Yadav refused to meet her 'niece' and termed her visit as emotional blackmailing.
Later Misa said "she never expected such a statement from her uncle".
Soon after, Yadav decided to revolt against the RJD after being denied the ticket and joined the BJP, and has now made it clear that he will contest against Misa.

Christened after the ancient name of Patna, the Patliputra parliamentary constituency is mix of urban, semi-urban and rural pockets. It has a strong presence of backward Yadavs, Kurmi and Koeri community members as well as Bhumihars. But experts feel that it is the Mahadalit vote that will decide the fate of this constituency.
Bihar's ruling Janata Dal-United leader Ranjan Prasad Yadav is the sitting MP from Patliputra. He defeated Lalu Prasad in the 2009 Lok Sabha elections by a margin of 10,000 votes.
Interestingly, Ranjan was once the closest aide of Lalu, sometimes even referred to as the 'Chanakya of Lalu', during the latter's power-packed days in the mid 1990s. However, differences cropped up between the two leaders and Ranjan left RJD and joined the JD-U.
Meanwhile, Misa Bharti started campaigning in the constituency on Sunday and has evoked good response in her rallies. Similarly, Ranjan Yadav is also busy touring different parts of his constituency, meeting party workers, before the JD-U finally announces his candidature.
However, another former RJD legislator Nawal Kishore Yadav, who had also quit Lalu's party to join the BJP earlier this month, has claimed that he has got the assurance from the party's central leadership to contest polls from the seat.
Image: Ram Kripal Yadav and Misa Bharti