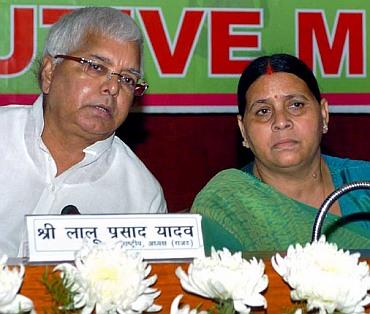 Rabri Devi, ex-chief minister of Bihar, wife of Rashtriya Janata Dal chief Lalu Prasad and their party's candidate from Saran, tells Kavita Chowdhury there's a wave for the Rashtriya Janata Dal in Bihar and talk of a Modi wave is media hype.

Edited excerpts:

How do you see the RJD faring in Bihar, especially with Laluji not allowed to contest?

It will be a one-sided vote, in favour of the RJD.

It's being said there is a Narendra Modi wave.

There is no Modi wave. It's a pure media creation, there is no discussion about him at all in the homes of the Dalit and the common man, on him or the BJP. All this hype about Modi is the staple of businessmen and the media and restricted to cities. In rural areas, there is no impact of Modi.

There has been so much talk about tainted politicians and corruption in these polls, Don't you think Laluji's conviction in the fodder scam put the RJD on the backfoot?

Not at all. Rather, sympathy for him will work in our favour. The people know he was trapped, a pure saazish (conspiracy). The people here are heartbroken at what has happened to him.

The prioritising of family over party workers, fielding your daughter, Misa Bharti, instead of Ram Kirpal Yadav, could cost you politically.

Look
at all the other political parties; there is family everywhere. Laluji has not done anything out of the way. Moreover, it was the demand of the public of Pataliputra constituency that Misa, the bahu (daughter-in-law) from there be fielded. It's not a question of Laluji's parivaar (family) but the RJD parivaar.
But these elections have also seen several disgruntled RJD partymen quit and join other parties.
There are turncoats everywhere. But this is sure, that everywhere there is an upsurge for the RJD. In the recent Assembly bypolls, we won all the six seats. In Bihar, there is an RJD wave. It's a direct contest between the RJD and the BJP.
Then, why did the RJD fare so badly in 2009, when you were reduced to four seats?
Last time, there was massive malfunctioning of the EVM (voting) machines. Otherwise, we would have won many more seats.
You are being labelled a proxy candidate for Lalu Prasad.
That's not correct. I am prepared to be the leader of the RJD in Parliament and raise issues of unemployment, power and water for the people in my state.
What sort of a Prime Minister do you think Narendra Modi will be?
Narendra Modi will definitely not be PM. There is no Modi wave on the ground. His becoming PM will be dangerous for the country.
Complete Coverage: Lok Sabha Election 2014