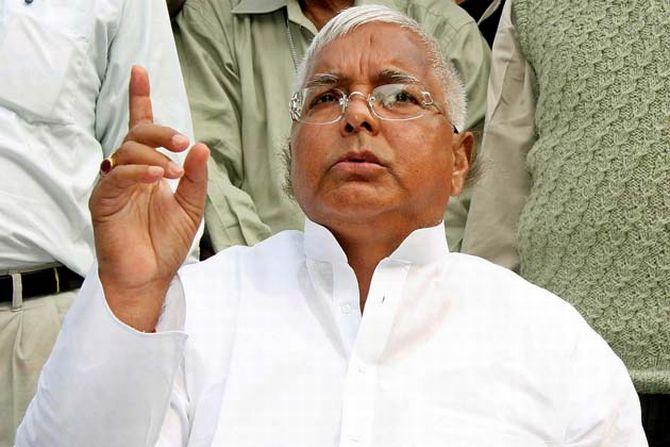 'It is precisely because of the apprehensions about Lalu's revival that the upper castes have started re-thinking their electoral preferences.'
'Out of confusion, they are simply deciding to vote for winnable candidates from their respective castes of any of the three parties -- the BJP, JD-U or RJD.'
'This is what has considerably neutralised the NaMo wave in Bihar and resulted in Nitin Gadkari's remark that "Caste is in the DNA of Biharis". This is why Giriraj Singh, the BJP candidate from Nawada, made provocative statements,' says Mohammad Sajjad.
There is much talk of communal polarisation in favour of Narendra Modi.
This is quite true.
What is being ignored or downplayed is the fact that this polarisation is also a great advantage for the otherwise discredited 'secularists' -- regional satraps like Rashtriya Janata Dal chief Lalu and Samajwadi Party chief Mulayam Singh Yadav.
According to less prejudiced latest field reports and pollsters, Bihar doesn't have as much of a 'Modi wave'. Still, both the Bharatiya Janata Party and the RJD (which is contesting this election in alliance with the Congress) have succeeded in driving home the point that there is one and that those who want to stop Modi should rally behind Lalu (who is judicially disallowed to contest elections as he has been convicted on corruption charges).
These parties will want you to believe that Lalu enjoys the rock-solid support of the Yadavas, unlike Nitish Kumar who doesn't have any such core support.
Nothing can be more untruthful.
The ground-reality is that the Ati Pichhrha (32%) and MahaDalit (12%) besides Nitish's own Koeri-Kurmi (7%) caste, are still with the Janata Dal-United quite strongly.
Only the Pasmanda communities of Muslims (out of 41 Muslim communities, around 37 are listed as Backward, and of them 27 are listed as Ati Pichhrha) are said to have joined, howsoever reluctantly, the Ashraf communities of Muslims -- in order to checkmate Narendra Modi. They are expected to return to Nitish Kumar and the JD-U in the 2015 assembly election.
Many surmise that if Nitish Kumar does not perform well in the Lok Sabha election, there will be defections by JD-U MLAs and that he may be replaced by the BJP's Sushil Kumar Modi in Bihar. Sushil Modi has stated this in a recent interview.
With this propaganda by the BJP and RJD, the Muslims fear that any 'wrong decision' (voting for JD-U candidates) may lead to the BJP's success.
This is pushing the Muslim communities towards the RJD, enabling Lalu to resurge back. The Lalu-Rabri Devi era (1990 to 2005) in Bihar, more particularly after 1995, wreaked havoc in the state.
This is not to deny Lalu's contribution in enabling subordinated communities to consolidate and become assertive, and also firmly keeping communal riots in check. But Bihar needed much more than that and Lalu-Rabri doggedly refused to perform on all those fronts during their 15 year rule.
It is feared that his revival will see the return of horrific ills like kidnapping for ransom, vehicle snatching, the influence of gangsters in politics and the administration, gross neglect of roads, public health and education systems.
The BJP's game of polarisation is giving a fresh lease of life to Lalu. This resurgence of Lalu causes discomfort to upper caste Hindus. They apprehend that even in the assembly election, polarisation will take place around Sushil Modi-Lalu, pushing the Muslims towards Lalu and the Hindus towards the BJP.
While Lalu's corruption and absolute failure on governance and development is concealed under the garb of 'secularism', Bihar's BJP voters are voting for communalism under the garb of the Gujarat model of development.
In doing so, they conveniently ignore the much successful Bihar model of inclusive development despite resource constraints and a long history of political-bureaucratic inefficiency in under-utilisation of central funds.
It is precisely because of the apprehensions about Lalu's revival that the upper castes have started re-thinking their electoral preferences. Out of confusion, rather than rallying behind the JD-U, they are simply deciding to vote for winnable candidates from their respective castes of any of the three parties -- the BJP, JD-U or RJD.
This is what has considerably neutralised the NaMo wave in Bihar and resulted in Nitin Gadkari's remark that 'Caste is in the DNA of Biharis'. This is why Giriraj Singh, the BJP candidate from Nawada, made provocative statements.
An electorally and politically weak Nitish Kumar is advantageous for both the BJP and Lalu. Once Nitish Kumar is rendered weak and is ousted:
Lalu will reclaim the space of social justice and secularism (read protection to minorities from violent religious strife; tragically the notion of 'secularism' in terms of political-administrative practice has been reduced to this protection only.
The BJP will reclaim the politics of good governance and development. That is why once you probe the electorates on Nitish Kumar's accomplishments on development, and then ask why they are deserting him, they will suddenly insist, 'No no, we will let him win and form his government in the assembly elections.'
This type of remark will come from both Hindus as well as Muslims.
As of now, the Nitish Kumar-led provincial administration has struck a brilliant balance between both these agendas of advancing social/gender justice-secularism and good governance-development.
Contrary to what the pollsters and newsmen have to say, well aware of these unwelcome prospects, the less vocal social groups like the Ati Pichhrha and MahaDalit are standing solidly behind the JD-U as they are scared of the revival of Yadav hegemony in Bihar, besides every other kind of destruction including rise in crime.
Moreover, by and large women, cutting across castes and communities, remain appreciative of Nitish Kumar who has provided 50 per cent reservations for them in rural and urban local bodies.
Hence, all reports about JD-U losing very badly (pollsters predict the JD-U will win 0-5 seats from Bihar) may not be such a big truth. On May 16, if you hear of the JD-U getting many more seats than what the pollsters are suggestively predicting, don't be surprised, except that the JD-U's Muslim candidates may end up losing (compared to the RJD's Muslim nominees who have received the bigger benefits of the 'NaMo scare' among the Muslim communities).
Ooverall, there is the wave of none in Bihar except that Lalu's resurgence is the big news at the moment. Similarly, in Uttar Pradesh, the Samajwadi Party (despite having presided over a horrific communal massacre in Muzaffarnagar in September 2013 and the continuing dislocation of thousands of riot victims) is getting some Muslim votes at least for its Muslim candidates.
This duplicity of sections of the Muslim electorate is quite visible. They talk of voting against Narendra Modi's BJP invoking the Gujarat massacre of 2002, but simultaneously choose to ignore the massacres of Muzaffarnagar and adjoining districts besides dozens of riots across UP during March 2012-2013 under the Akhilesh Yadav administration.
These duplicities are confined largely to urban and semi urban middle class Muslims. Other sections of Muslims are more inclined towards Mayawati's Bahujan Samaj Party, which will most probably throw up another surprise for the pollsters and newsmen on May 16.
Mohammad Sajjad teaches History at Aligarh Muslim University and has published two books Muslim Politics in Bihar: Changing Contours and Contesting Colonialism and Separatism: Muslims of Muzaffarpur since 1857.
Image: Laloo Prasad Yadav: Ready to make a big comeback in Bihar?