Disappointed and angry Congress members are likely to train their guns on Rahul Gandhi's team of advisors for inept handling of the 2014 Lok Sabha poll campaign, says Rediff.com contributor Anita Katyal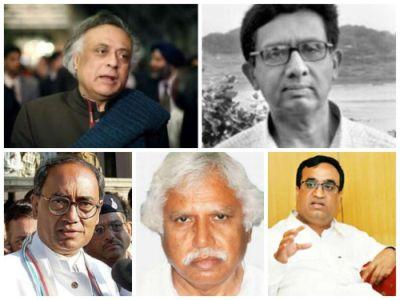 When the Congress Working Committee meets on Monday to discuss the party's dismal performance in the Lok Sabha election, angry members are expected to target "five chief architects" who, they believe, are primarily responsible for the debacle.
Although unhappy with the manner in which Congress Vice-president Rahul Gandhi and his team of advisors handled the poll campaign, the Nehru-Gandhi scion is expected to get away lightly.
Instead, members are likely train their guns at -- Madhusudan Mistry, Jairam Ramesh, Mohan Gopal, Digvijaya Singh and Ajay Maken -- for running an insipid campaign, poor communication and shoddy handling of key states. All the 5 are said to be close to Rahul Gandhi.
AICC General Secretary Madhusudan Mistry is known in the Congress circles as Rahul Gandhi's confidant and a key member of his team. Entrusted primarily with backroom planning and poll management, Mistry's stature in the party organisation rose after he delivered victories for the Congress in the Karnataka and Kerala assembly polls. He was subsequently given charge of the electorally-crucial state of Uttar Pradesh and was also asked by Rahul Gandhi to scout for "winnable" Lok Sabha candidates.
Considered an outsider in the party (he was with BJP's Shankersinh Vaghela before he joined the Congress), Mistry was never really accepted by the Congress old-timers. There was a lot of scepticism in the party when Mistry was given charge of Uttar Pradesh and was picked to take on Narendra Modi in the Vadodara Lok Sabha seat.
The murmurs of protest are now getting louder after the Congress was wiped out in Uttar Pradesh, with the party managing to only retain Rae Bareli and Amethi -- Congress president Sonia Gandhi and Rahul Gandhi's Lok Sabha constituencies.
Angry Congress leaders are questioning Mistry's utility, his understanding of a difficult and complex state like Uttar Pradesh and his inability to pick the right candidates. In addition, there have been innumerable complaints from Uttar Pradesh Congress leaders who said Mistry was totally out of depth and unable to establish any connect with the state cadre.
Mistry's inadequacies have stood out in sharp contrast to BJP's Uttar Pradesh incharge and strategist Amit Shah who ensured a clean sweep for the saffron party in this key Hindi heartland state. "There is no comparison between the two Gujarat leaders. Mistry was clearly not in the same league as Amit Shah," a senior Congress leader told Rediff.com.
Not just Uttar Pradesh but Congress leaders are also raising questions about Mistry's much-touted country-wide talent hunt for Lok Sabha candidates. Pointing to the party's decimation in these elections, they wonder, how this elaborate exercise had helped the party.
Outgoing Rural Development Minister Jairam Ramesh had successfully handled the party's election campaign in the 2004 Lok Sabha polls along with his colleague Salman Khurshid. Ramesh was picked for the job again in 2009. With two successes under his belt, it was understandable that the IIT-educated minister would work with Rahul Gandhi on the 2014 poll campaign.
As the chief coordinator, Ramesh dealt directly with the advertising agencies handling the campaign and was responsible for the overall strategy and fine-tuning the messages. However, Ramesh failed to deliver.
When party strategists realised midway during the election that the Congress' campaign was making no impact, Ramesh was marginalised and sent off to Andhra Pradesh for party work. The minister's out-of-turn comments made matters worse. Besides running a faulty campaign, Ramesh is also being held responsible for giving wrong advice to Rahul Gandhi. For instance, it is being pointed out, that it was Ramesh who persuaded Rahul Gandhi to protest against the acquisition of tribal land in Odisha's Niyamgiri belt without delineating an alternative development plan.
Like Mistry, Ramesh does not have too many friends in the Congress. He has made himself unpopular because of his propensity to ridicule his colleagues. It is now payback time. Congressmen have been quick to point fingers at Ramesh for devising a faulty campaign. It is clear that Ramesh is going to come under sharp criticism in the coming days.
The party is also zeroing in on academician and director of Congress think tank Rajiv Gandhi Institute of Contemporary Studies, Mohan Gopal. Impressed with Gopal's political insight and academic qualifications, Rahul got him on board for the election strategy sessions and to plan the party's poll campaign. Among other responsibilities, the professor had to ensure that the election campaign reflected the Congress ideology.
Sharing the same views with Rahul Gandhi on social justice and democratising structures, it was Gopal who counselled the Nehru-Gandhi scion on the position he should take on specific issues and how these ought to be articulated. It was Gopal who was instrumental in persuading Rahul to hold separate interactions with groups of street hawkers, railway porters, fishermen and women anganwadi workers in order to project the Congress vice-president as a leader who empathised with the common man.
Unhappy being ignored in the planning of the election campaign, Congress seniors say the failure of the party's poll strategy has only proved that non-political players should not be given such a crucial task. "It does not help ignoring party workers. They are a source of valuable political inputs," said another angry Congress leader.
Former Madhya Pradesh chief minister and high-profile Congress general secretary Digvijaya Singh is also not going to escape unscathed. Singh has strong views on every subject and does not hesitate to voice them, even if these are contrary to the party's official position.
Efforts to discipline him have proved ineffective as Singh refuses to abide by the rules. The senior Congress leader is being targeted primarily on two counts. First, many Congress leaders believe that in his zeal to replace his mentor Arjun Singh as a spokesperson for the cause of minorities, he took public positions that proved counter-productive. Similarly, Singh's continuous attacks on political rivals, especially Narendra Modi, also backfired.
As general secretary incharge of Andhra Pradesh, the Congress functionary is being blamed for his shoddy handling of the state. The Congress has failed to make any political gains in Telangana even though it went out of its way to bifurcate Andhra Pradesh.
The party fell by the wayside as it was unable to seal a deal with the Telangana Rashtriya Samiti even though the latter had promised to merge with the Congress after the passage of the Telangana Bill. The TRS subsequently backed off from a merger while efforts to forge a pre-poll alliance also proved unsuccessful. "We could not handle our potential allies…we did not make a serious effort in persuading them to tie up with our party," said an outgoing Congress minister.
Former minister Ajay Maken was inducted into the Congress organisation and given charge of its communications department nearly a year ago with the mandate to revitalise the department and strengthen the party's media outreach.
Not only has the Maken-led communications department alienated its senior spokespersons, it was also unable to clearly articulate the party's position on important issues or set the agenda for its political opponents.
Barring a few exceptions, the new bunch of party spokespersons have failed to measure up to the job while the party's efforts to make effective use of social media did not take off. The BJP, on the other hand, made effective use of all modes of communication to reach out to different sections of the society.
Maken himself has been largely inaccessible even though it was expected that he would be able to provide vital insights into the functioning of the party.