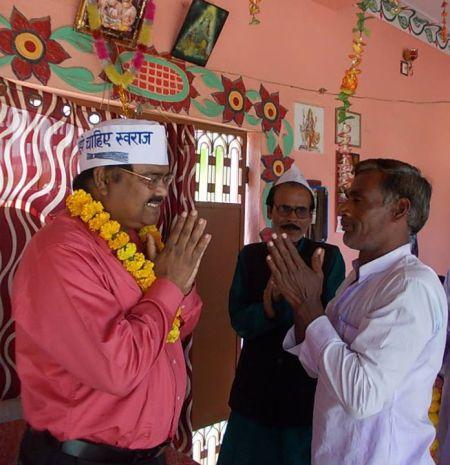 'In Darbhanga, 24 hours prior to polling, millions of rupees were distributed to the people.'

'No leader from the Aam Aadmi Party came to my constituency to campaign.'

'This election, we were able to reach out to 10 lakh people and provide them with an alternate to the BJP and Congress.'

Two Indian-Americans returned to India to contest the elections from the Aam Aadmi Party. Deelip Mhaske and Dr Prabhat Ranjan Das, who lost the polls, speak about corrupt politics, the difficulties they faced while campaigning and their plans to continue work to rebuild the nation. George Joseph listens in

In the clutch of the election season, the story of Deelip Mhaske and Dr Prabhat Ranjan Das, two Indian Americans, is perhaps the most amazing. Both of them returned to India from America to participate in the polls; that they lost the elections is a secondary story. The two share the lessons they learnt during the elections and say they haven't lost hope for the future.
Dr Prabhat Ranjan worked as an internist for 26 years in New Jersey before he returned to his native Bihar in 2006. He began the Dr Prabhat Das Foundation and through his charity helped change the lives of thousands of people.
He says he had no interest in politics but he soon found the Aam Aadmi Party's ideology attractive and when they approached him to contest the elections from Darbhanga, Bihar, he couldn't pass up the opportunity.
He was pitted against Bharatiya Janata Party's Kirti Azad and Rashtriya Janata Dal's Ali Ashraf Fatmi and Janata Dal United's Sanjay Jha. "When I left the US to return to India, I didn't think of elections and power. All I thought about was working for the people. But good people need to engage in politics to reverse the harm done to the country by the corrupt," he said.
Speaking about his battle, Dr Das says he is not unhappy about his loss. "In fact, I have learnt a lot from these elections. I have been working in Darbhanga for more than eight years and trying to help the people of the area despite my loss."
He adds that the fact that people recognised him and showered him with love and respect during the campaign was heartwarming. But, unfortunately, the love and respect didn't translate into votes.
Dr Das says the reason for his loss can be attributed to three factors -- religion and the cast factor, money and violence. "The Hindus in Bihar will vote for the BJP, the Muslims will vote for Lalu Prasad Yadav and the Yadavs of the area will support the JD-U (Janata Dal United)." He says that besides the religion card, money is the most important reason for his loss.

"In Darbhanga, 24 hours prior to polling, millions of rupees were distributed to the people. Votes were being purchased for Rs 300 to 500. Additionally, I wasn't given funds by the AAP to campaign, as they too are a poor party. On the other hand, I heard that the BJP spent around Rs 300 million for their candidate while the RJD (Rashtriya Janata Dal) spent Rs 200 million."
Dr Das says that despite his drubbing, he is very satisfied as he did not compromise on his ideals. He, however, says that some more support from the party would have gone a long way. "No leader from the AAP came to my constituency. On the other hand, Modiji, Laluji and Nitish Kumar all came to Darbhanga for their candidates."
When asked about his return to India, he says he doesn't regret it one bit. "I came back to India not with the idea of joining politics, but to help people and despite my loss I will continue to help people through my charity. Working for the poor and among the poor is most satisfying experience that a person can have and I will continue to work for them whether I live in Darbhanga or US."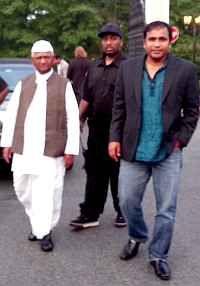 Deelip Mhaske, who returned to Jalna in Maharashtra, worked for the New Jersey state government. Born into a Dalit family, Mhaske lost his home -- a 10X10 tenement -- in a slum demolition drive several years ago. However, his childhood fortunes didn't stop him and he went on to get scholarships and earn degrees in law, social work and a doctorate.
Returning to India after his US stint, he joined the AAP and contested elections from Jalna and faced off against Raosaheb Danve of the BJP and Vilas Autade of the Congress. When asked about his loss, he too wasn't very upset. "Firstly, I would like to congratulate the BJP and Modi for the win. I am sure that Modi will bring development and introduce a responsible government."
About his party's performance, he said, "We won four seats, which is good for a new, fledgling party. We formed quickly and had many challenges before us. Unfortunately, we had only a few supporters and limited resources owing to which we could not get our ideology across the villages. We have the state assembly elections coming up later this year and these general elections have been a perfect platform for that."
He too has regrets coming back to India. "There is no regret in building the nation. It is our responsibility to build a foundation for a better India. I don't regret joining the AAP or returning to India. This election, we were able to reach out to 10 lakh people and provide them with an alternate to the BJP and Congress. Hum rajneeti karane nahin, rajneeti badalne aaye hain (Our goal is not to play political games but to change politics)."
Mhaske reportedly transformed the lives of several communities living in five slum tenements of Mumbai, and was nominated for the Mann Award that recognises innovations in health and human rights. He has worked closely with anti-corruption crusader Anna Hazare, Aam Aadmi Party's Arvind Kejriwal, Medha Patkar and Mayank Gandhi.'
Image: Dr Prabhat Ranjan Das contested the elections from Darbhanga constituency in Bihar. (Below) Deelip Mhaske with anti-corruption activist Anna Hazare.