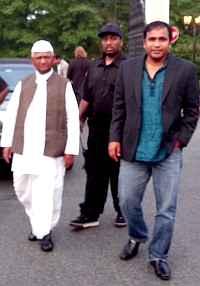 From being forced to work as a construction labourer after his family lost their home in a slum demolition drive to making his way to Harvard and then work for the US government, Deelip Mhaske decided to return to his motherland to pave the way for a better future.
In the clutch of Indian election contestants with America connections, the story of Deelip Mhaske is perhaps the most amazing.
Mhaske, 35, worked for the New Jersey state government before he went back to Maharashtra. He is contesting from Jalna and faces incumbent Raosaheb Danve of the Bharatiya Janata Party and Vilas Autade of the Congress party.
Mhaske is an alumnus of the Indian Institute of Technology-Bombay, the Harvard Business School and the University of Pennsylvania. He is also a Dalit, and lost his home, a 10 x 10 tenement, in a slum demolition drive in Mumbai years ago.
When he was in IIT, The Times of India reports, he doubled up as a construction labourer while his mother worked as a rag-picker.
'I once landed up at a building where my classmate lived in order to carry out some construction work,' Mhaske told The Times of India. 'That's when she discovered for the first time that I worked as a construction labourer.'
He won a government scholarship at age 10, which gave him admission in Navodaya Vidyalaya, which is part of a chain of schools that provide quality education to talented children from the villages.
He told The Times of India he was past of the Lok Satta party in Hyderabad, and helped up a chapter of that party in Maharashtra.
Mhaske reportedly transformed the lives of several communities living in five slum tenements of Mumbai, and was nominated for the Mann Award that recognises innovations in health and human rights.
Image: Deelip Mhaske with anti-corruption activist Kisan Baburao 'Anna' Hazare
Photograph courtesy: Wikimedia Commons