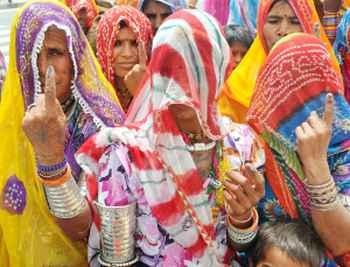 Barmer, one of the most talked-about Lok Sabha constituencies in the run up to the 2014 general elections, registered 71.60 per cent turn out in the polls held on Thursday, one of the highest in Rajasthan.

The second largest constituency in the country was in the news as expelled BJP leader Jaswant Singh decided to contest from here as an independent candidate after he was denied the party ticket. The former Union minister faces BJP's Sonaram Choudhary and Congress' Harish Choudhary here.

Political observers say the high-voltage triangular contest attracted a high percentage of voters to the polling booths in Barmer.

The first phase of polling in 20 Lok Sabha constituencies in Rajasthan ended on Thursday with an average of 63.25 per cent of 3.48 crore electors casting their votes in the desert state at the end of 1800 hrs, the Election Commission said.

The 20 Lok Sabha constituencies where polling was held include: Ganganagar, Bikaner, Churu, Jhunjhunu, Sikar, Jaipur Rural, Jaipur, Ajmer, Nagaur, Pali, Jodhpur, Barmer, Jalore, Udaipur, Banswara, Chittorgarh, Rajsamand, Bhilwara, Kota, and Jhalawar-Baran.

A large number of voters, including many women and elderly, were seen queuing up at different polling booths in Jaipur on Thursday, which recorded a 61.2 per cent turn out.
On the other hand Ganganagar surpassed Barmer as the former registered a 72.71 per cent turnout, the highest in the state.

In 2009, 48 per cent voting was registered in the state. However, four more seats will undergo polling on April 24.

Besides Barmer and Ganganagar, Rajasthan Chief Minister Vasundhara Raje's son Dushyant Singh's seat Jhalwar recorded 69 per cent voting.

Another prestigious seat, Ajmer, from where Congress state president Sachin Pilot is contesting, recorded 68 per cent polling.

Udaipur and Banswara registered 67 per cent voting each.

In Jodhpur, where Union minister Chandresh Kumari of Congress is contesting, witnessed 63 per cent polling.

Jaipur Rural, where Congress' CP Joshi is taking on BJP's Olympian candidate Rajyavardhan Rathore, registered 60 per cent polling.

Pali constituency, with 58 per cent turnout, registered the least polling in the state.

Image: Women in traditional attires flash their inked fingers after casting their ballot in Jaipur on Thursday

Photograph: Chandra Mohan Aloria/Rediff.com