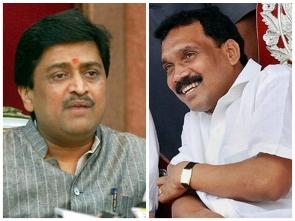 Former Maharashtra Chief Minister Ashok Chavan and ex-Jharkhand CM Madhu Koda were on Monday asked by the Election Commission to appear before it on May 23 for allegedly giving incorrect accounts of their poll expenses.
Slapping a fresh notice on Chavan, the EC asked him to appear before it in connection to an ongoing case of alleged expenses made by him during the 2009 polls which were categorised as 'paid news'. Chavan has been asked to attend the hearing on May 23 'either in person or through his authorised representative or counsel'.
In the second case, the EC has asked Koda to appear in the hearing with regard to a case against him for allegedly furnishing false election expenditure records after the 2009 polls.
Complete Coverage: Elections 2014
The EC's action comes a week after the Supreme Court gave a free hand to the poll body to enquire into complaints of paid news or incorrect expenses against a political leader. A bench headed by Justice A K Patnaik had dismissed the plea of Chavan challenging the Commission's jurisdiction to enquire into such issues.
The apex court had directed the Commission to enquire into the complaint against Chavan within 45 days. The EC, post complaints made against the two political leaders, had initiated disqualification procedures against them under the Representation of the People Act. Both the leaders had challenged the EC's action as they denied any wrongdoing. The EC has also given an opportunity to both the leaders to obtain copies, if they require, of their respective cases from the poll body's office before May 23.
The EC has last conducted a hearing in Chavan's case in May 2012. The apex court had passed the order on May 5 this year on an appeal filed by Chavan challenging the Delhi high court verdict, which had refused to grant any relief to Chavan on the issue of paid news.
In the second case, Koda was elected as an independent member of Parliament from the West Singhbum Constituency of Jharkhand in 2009 and in October 2010 the EC had issued a notice to him asking him as to why he should not be disqualified on the ground that he had shown the election expenses far less than the actual amount of nearly Rs 10 crore allegedly spent by him.
The Commission had said it had found that Koda had made an expenditure of about Rs 10 crore during his election campaign against the statutory limit of Rs 25 lakh, as stipulated under the EC guidelines for parliamentary polls that time.