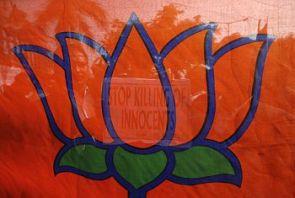 BJP tops the poll expenditure charts for the last Lok Sabha elections, having spent more money than all other political parties including the Congress.
According to the statements of poll expenditure submitted by the parties to the Election Commission, the BJP spent Rs 448.66 crore in the last general elections and yet lost the race to power.
The ruling Congress spent Rs 380.04 crore, which is Rs 68.62 crore less than the poll expenditure of the opposition party.
Of the total BJP's poll expenditure, Rs 162. 68 crore was spent by the party central office while another Rs 285.98 crore expenditure was incurred at the level of states.
The analysis of the 2009 Lok Sabha election expenditure statements submitted by various political parties to the poll body reveals interesting details about the funds they received from different sources, with majority of donations being in cash rather than through transparent means of funding.
Data analysis shows that only 24 per cent of the total election funding the Congress received was made through cheques and demand drafts, the remaining being in cash. The BJP, however, received close to half (49 per cent) through cheques and demand drafts.
The Congress received a total of Rs 313.74 crore of poll funding during the last Lok Sabha election period.
Of this, a whopping Rs 237.36 crore was received by the party in cash and only Rs 76.38 crore came in cheques and demand drafts which are accounted for by the donors.
The BJP received total election funding worth Rs 478.61 crore through cheques and demand drafts. The remaining Rs 239.73 crore was received by the BJP in cash at both the central and state levels.