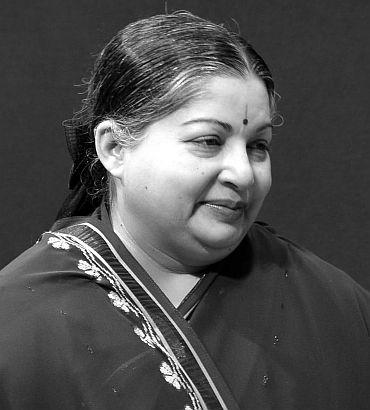 The Madras high court on Tuesday issued notice to All India Anna Dravida Munetra Kazhagam supremo Jayalalithaa and government officials, on a petition by the Pattali Makkal Katchi accusing her of actuating the police to book its leaders and workers with a view to crush the party and sought a Special Investigation Team to look into all such cases.
When the petition filed by PMK president G K Mani came up for hearing, Justice B Rajendran issued notice to Jayalalithaa, the chief secretary, home secretary, director general of police and superintendent of police of the Villupuram district returnable by four weeks.
In his petition, Mani wanted the SIT to collect details of all cases registered between April 30, 2013 and May 31, 2013 against PMK's founder leader Dr S Ramadoss, office-bearers, supporters and sympathisers and look into them.
He charged the Tamil Nadu chief minister with actuating the police, revenue officials and the executive authorities to rope the PMK and Vanniar community people, its base, in criminal cases, effect arrests, clamp detention orders (in the backdrop of violence during its annual youth festival at Mamallapuram last year).
She had personal prejudice against Ramadoss and was acting on a "fixed agenda of crushing" their party, Mani alleged. He claimed that since April 30, about 8,000 cases had been foisted against the party men and its supporters. As many as 134 party workers, including its Member of Legislative Assembly J Guru, were detained under the National Security Act and Goondas Act.
Investigation of these cases by the police which functioned under the Home Department controlled by the chief minister will yield no just and fair results, he submitted and sought appointment of SIT.