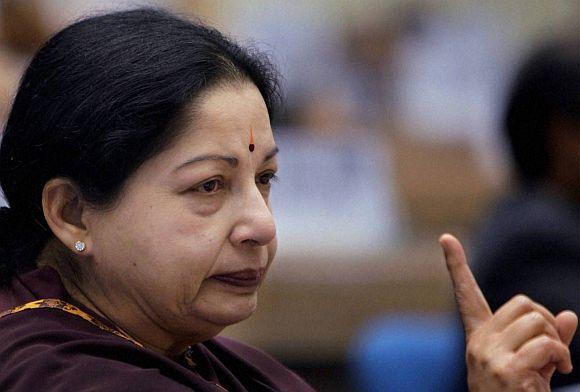 Tamil Nadu Chief Minister and All India Anna Dravida Munetra Kazhagam supremo J Jayalalithaa on Sunday squarely blamed the Centre and the Dravida Munetra Kazhagam for the plight of Tamils in Sri Lanka and also the fishermen from the state.
At a time when her government has been pressing the Centre for intervention on these issues, the Congress-led United Progressive Alliance government was engaged in training Sri Lankan naval forces in India, she said, addressing an election rally.
"What did the Congress government do on the Sri Lankan Tamils issue? It gave military training and weapons to Lankan government. It was responsible for the killing of Tamils there. Don't forget that the DMK was also part of that government," she said, apparently seeking to encash on the sentiments of fishermen in the coastal district.
Continuing her pitch for an AIADMK inclusive government at the Centre after the Lok Sabha polls, she promised that her party would put the country on a development trajectory.
"If the AIADMK becomes part of the government at the Centre, it would strive for India moving a resolution in the United Nations Human Rights Council, seeking action against war criminals and for a referendum for a separate Eelam (homeland)," Jayalalithaa said.
She said her party would also initiate steps to punish those involved in corruption including the 2G scam, if people ensured the AIADMK's participation in the next government at the Centre. Jayalalithaa also charged the Congress and the DMK as "anti-fishermen" obviously pointing to the relentless harassment of Tamil Nadu fishermen by the Island nation.
Referring to accusations levelled by DMK chief M Karunanidhi on her government over enhancing the existing reservation of 3.5 per cent to Muslims, she defended her decision to refer the issue to the State Backward Commission as mandated by the Supreme Court.
"The UPA wasted the last 10 years. If we are part of the next government at the Centre, we will modernise the defence forces," she said. Jayalalithaa has chalked out a gruelling electioneering itenarary to criss-cross the state from March 11 to April 21 to drum up support for AIADMK candidates.