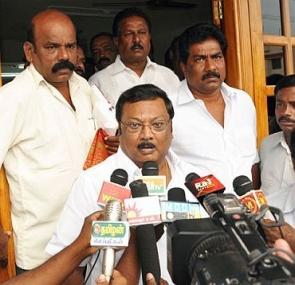 The Dravida Munnettra Kazhagam on Wednesday warned that members who continue to maintain links with suspended leader M K Alagiri will face disciplinary action.
The stern warning has come two days after party supremo M Karunanidhi's son Alagiri held meetings with his supporters in Madurai to chalk out his future course of action.
He had also recently met Prime Minister Manmohan Singh, much to the embarrassment of the DMK.
DMK general secretary K Anbazhagan accused Alagiri of attempting to create confusion among the rank and file of the party in the run-up to the Lok Sabha polls.
He cautioned, "The party will not tolerate indiscipline".
The warning is also aimed at isolating Alagiri, the strong man in southern parts of Tamil Nadu, after his threat to play a key role in the Lok Sabha elections in the state and his statements about the bleak prospects of the DMK.
Alagiri's statements -- hailing Bharatiya Janata Party's prime ministerial nominee Narendra Modi -- has also angered the party, prompting the latest action.
"I make it strictly clear that no party comrades, irrespective of their position, should have any truck with the suspended Alagiri. The high command will initiate disciplinary action against anyone who violates the party decision," he said.
The party suspended Alagiri in January, accusing him of indulging in acts of indiscipline after he made some accusations against his brother M K Stalin, virtually embarrassing the leadership.
Alagiri has declared that he has no intention of floating a new party. But he has claimed that his father needs to be saved from "bad" elements surrounding him, in an apparent reference to his brother Stalin.
The warning to partymen to fall in line with the party directive comes in the backdrop of Karunanidhi launching his election campaign from April 5.
Image: M K Alagiri