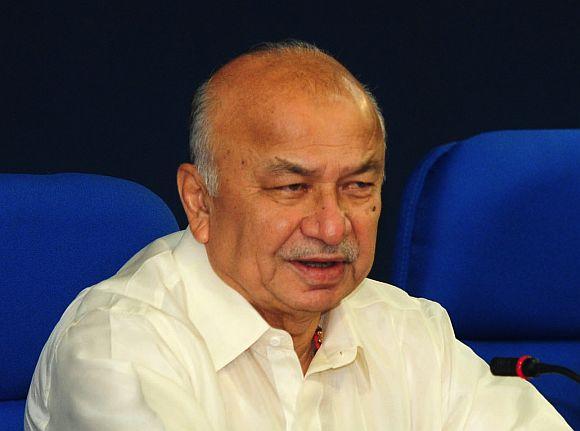 Union Home Minister Sushil Kumar Shinde on Tuesday expressed confidence that the Congress-led United Progressive Alliance would once again form the government at the Centre and refuted claims that the country had been swept up in a Narendra Modi wave.
"There is no Modi wave in the country. In the 2004 Lok Sabha elections, the Bharatiya Janata Party had launched the India Shining campaign. But it was all false. Now, a few electronic channels are claiming that there is a Modi wave, which is totally wrong," said Shinde addressing reporters during a rally in Solapur, from where he is is contesting the polls.
The Union minister, who is seeking to retain his Solapur seat, took out a procession in the morning following which he held a rally at the Congress Bhavan. He quipped, "If you want to know if there is any Modi wave in the country, better ask BJP leader Murli Manohar Joshi," referring to Joshi's reported remarks that there was no Modi wave, but a BJP wave.
Shinde said he was confident that UPA would once again form the government at the Centre with the help of their alliances. "In Maharashtra, the alliance between NCP and Congress is going well," he added.
Expressing displeasure over the standard of the election campaigns, Shinde said, "Instead of discussing development issues, political leaders are targeting each other over personal issues."