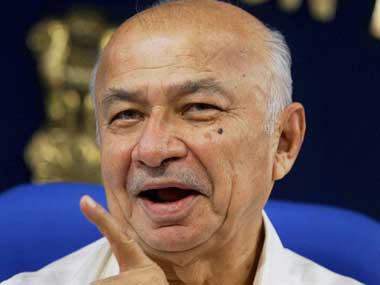 Amid an uproar over Home Minister Sushilkumar Shinde's threat to "crush" the electronic media, the Congress on Tuesday said it has always given respect to the media and his statement was directed at the Bharatiya Janata Party's "paid team", which attacks virulently anyone who targets it or Narendra Modi.
"The Congress has always respected the media. It has an important place in a democracy. Shinde has himself clarified in the matter," party spokesman Shaktisinh Gohil told reporters.
The remarks came in the wake of the home minister threatening to "crush" the electronic media and later making a U-turn, claiming he was referring to the social media and not journalists.
Gohil utilised the occasion to target Modi alleging that there was a huge uproar after the cameras of the Lok Sabha blacked out for two hours.
In the Gujarat assembly, Modi has permanently closed the eye of the camera.
The Gujarat CM had put a journalist Manoj Shinde behind bars on serious charges of anti-national activities for writing against him, the Congress spokesperson alleged.
The home minister's statement was directed at the "paid team" of the BJP, which attacks virulently anyone who targets Modi or his party, he said.
Shinde had stoked a controversy on Sunday evening by threatening to "crush" the electronic media, alleging a section of it was unnecessarily provoking the Congress by indulging in "false propaganda" against it.
The News Broadcasters Association also objected to "unverified" and "highly defamatory" charges levelled against news channels by Aam Aadmi Party leader Arvind Kejriwal and comments Shinde.
The apex body of news broadcasters appealed to political leaders and public figures not to level baseless charges against the media and keep the discourse "civil and sane".
The NBA also took strong note of Shinde's comments. "The NBA is equally shocked by the statement of the home minister of India that he would crush the electronic media and that a close watch was being kept on them."