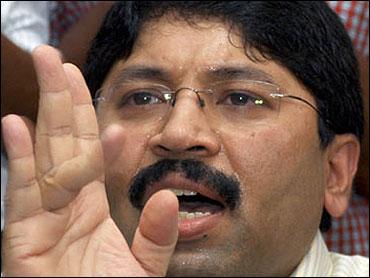 Former Union Communication Minister and Dravida Munnetra Kazhagham leader Dayanidhi Maran, who stepped down from his post in the wake of allegations of a scam in 2011, is leaving no stone unturned to retain the Chennai Central parliamentary seat which he won twice consecutively.
Although the Chennai Central seat, with six assembly segments, has traditionally been a DMK stronghold, the moot question now is if the constituency would continue to be so for the Karunanidhi-led party.
Murasoli Maran won the seat thrice in a row before his son Dayanidhi and the party top guns including M Karunanidhi (Chepauk) and M K Stalin (Thousand Lights), have won assembly seats here consecutively.
Even in the 1991 assembly elections when the DMK was completely routed in polls following the assassination of Rajiv Gandhi, Karunanidhi won from Harbour seat, another assembly segment in Chennai Central.
In the 2011 assembly elections, however, assembly segments including Harbour and Thousand Lights, considered as DMK bastions, went the AIADMK way marking a new electoral phase.
Immediately after the DMK nominated Dayanidhi again for Chennai Central, he hit the campaign trail. Unlike his party colleagues and cadres of other parties in Tamil Nadu who are 'dhothi' clad, he seeks votes in his usual formal wear in an open jeep.
Dayanidhi, who is facing serious allegations including securing 323 ISDN BSNL telephone lines, causing huge loss to the government is, however, putting up a brave front.
DMK workers hope that the electors "would not choose" to vote on the basis of scams during UPA regime, of which the party is not a constituent now.
Also, with the DMK and main opposition the DMDK focusing on the ruling party's "shortcomings" and the "acute" power shortage in Tamil Nadu in poll campaign, workers of Karunanidhi-led party feel that the propaganda will "swing" the votes in their party's favour.
The AIADMK, however, is particular in keeping the focus on the alleged scams of "UPA and the DMK" in its campaign and how the Karunanidhi-led party which was part of the Congress-led coalition at the Centre till recently cannot "escape guilt."
The ruling party candidate S R Vijayakumar, an advocate, is campaigning quite intensely to wrest the seat from the DMK. Dozens of street-corner meetings and door-to-door propaganda forms part of the serious campaign work of the AIADMK in this politically important seat.
Film actor and All India Samathuva Makkal Katchi chief R Sarath Kumar an AIADMK ally, popular television and film actresses Vennira Aadai Nirmala and Aarthi were among those who have addressed meetings to urge voters to defeat DMK's Dayanidhi.
The DMDK, which is in the BJP alliance, has nominated J K Ravindran. The Left parties are not contesting in Chennai Central.