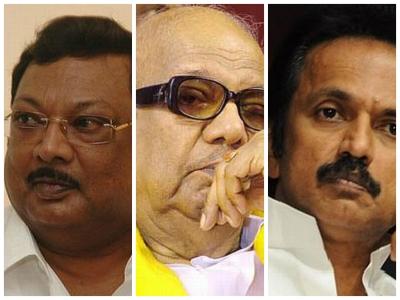 Having burnt his fingers with MGR very badly in the past and later with Vaiko, it suited the DMK chief, when disgruntled cadres upset with Stalin's choice for lower-rung party positions, began gravitating towards another member of the DMK's 'first family', says N Sathiya Moorthy
The Dravida Munnetra Kazhagam's Muthuvel Karunanidhi is the only party boss of any standing across the democratic world to have held the job for 45 long years without a break.
Against West Bengal's Jyoti Basu, who remained chief minister for 24 long years without a break, Karunanidhi has been elected Tamil Nadu chief minister five times by three generations of voters in four decades.
Karunanidhi made it all possible by distinguishing between the party position and 'fatherly duties' after a point. While he cannot escape promoting 'sons' M K Stalin and M K Alagiri, and in that order within the party and the government, whether in the state or at the Centre, he has not countenanced anyone challenging the authority of the party president and the hierarchy.
So when Alagiri cross the 'Lakshman rekha' -- or, is it the 'Karuna rekha' -- the goose got cooked, as any close observer of the DMK politics would have guessed.
The question before Karunanidhi was simple. If he could not discipline son Alagiri from violating party norms, procedures and priorities -- some of which still remains intact -- he could not expect others to respect his authority as party president any more.
If with his past glory and powerful oratory that belongs to another era of Dravidian politicos could not sustain it, no one else can sustain it. That includes his eternally-warring politician-sons, daughter Kanimozhi and grandnephew Dayanidhi Maran.
Possibly knowing the consequences, Karunanidhi did not spare the one and only MGR when the latter challenged his authority within the party hierarchy. Two decades down the line, he showed the door to Vaiko.
M G Ramachandranhad backed Karunanidhi for the chief minister's job after DMK founder, C N Annadurai's untimely death just a year-plus after assuming office with the historic polls of 1967. Vaiko filled the emerging vacuum after the new-generation had tired of Karunanidhi's famed platform oratory but still wanted more of the kind.
It was tactical at one level, disciplining at a more mundane level. Having made up his mind to get rid of them both in their times, Karunanidhi might have looked the other way and tired them out into sheer frustration that they ended up challenging the authority of the party leadership -- which incidentally was his own leadership.
After expulsion from the DMK in 1972, MGR went on to launch the more flourishing All India Anna Dravida Munetra Kazhagam. Vaiko's Marumalarchi Dravida Munnetra Kazhagam, launched in 1993, is tottering two-plus decades later.
'Prodigal son' twice over
Having burnt his fingers with MGR very badly, and later with Vaiko, though not as much, it suited Karunanidhi, when disgruntled cadres upset with Stalin's choice for lower-rung party positions, began gravitating towards another member of the DMK's 'first family'.
At various times since Vaiko's exit, Murasoli Maran and Dayanidhi, Alagiri and Kanimozhi, had fitted the bill.
Yet, there have been occasions when things would go off tangentially, and it all became too hot even for the wily Karunanidhi to handle. Alagiri was a family member unwilling to play second-fiddle and an imaginative worker, willing to walk the extra mile, to keep the last-line cadre in better humour than Stalin and the rest put together.
That was also his undoing. Little did he realise the role and contributions expected of a senior and seasoned leader in a party with a historic past, oftentimes decorated with ideological trappings that were no more relevant, at times.
Alagiri should have also known his father better, and not just as a son. For a senior leader of any established party in the country, he has the dubious yet rare honour of being sacked twice. The last time it happened, it was under near-similar circumstances, for 'anti-party activities', at the turn of the century.
The independents he then backed in the 2001 asembly elections in his southern citadel of Madurai ensured the defeat of close to a dozen DMK leaders, including the late P T R Palanivel Rajan, scion of a pan-Tamil Dravidian party of repute from the days of Madras Presidency.
The DMK was left with little choice but to take back Alagiri, though not on his immediate terms. Yet, he did grow into a power-centre in the politics, and the notorious election-manager that he ultimately became over the next decade.
This time, if his chances of rehabilitation after the parliamentary elections (whatever the results) are dim, his main backer in octogenarian mother Dayalu Ammal is bed-ridden, suffering old-age problems, starting with memory-loss. Others close to Karunanidhi know how he feels strongly about indiscipline of the kind in matter affairs.
It is thus not entirely correct to assume that Alagiri's sacking now owes to the influence that his brother Stalin wields over Karunanidhi, whose faculties are intact for a 90-year-old person, confined mostly to his wheel-chair.
Stalin has come to wield greater influence in party affairs for a different reason, and it is Alagiri's taunting the party leadership on this score that has now cost him his membership of the DMK.
By declaring that party nominations for the parliamentary polls were 'sold', Alagiri possibly thought that he was only targeting his younger brother.
Karunanidhi, who takes pride in his conscientious role as party president and makes sure that everything right -- or wrong -- are decided only by him (in consultation with General Secretary K Anbalagan, who is also older to him by a year -- saw it as a straight attack on his own integrity and leadership qualities.
Alagiri meeting Vaiko, the bête noire particularly of Stalin, on Tuesday was only the last straw, but the decision was due to be taken anyway a day later.
The noisy, and the 'silent'
It is his style of functioning that also makes Stalin stand out against Alagiri. The latter is a go-getter, who makes as much noise and draws as much attention (much of it negative) to himself as he produces results for the party, whether in elections or otherwise.
Stalin is a quiet 'operative', though the phrase may not fit him wholly in the politico-administrative context. Though not a 'Prince Charming', he is the DMK's 'Prince Charles', the near-eternal 'heir apparent', who is ever ready to wait for his turn at the helm -- if and when it came, and if, and only if, his father willingly handed over the mantle.
Media speculation notwithstanding, Stalin is not known to have challenged his father's authority, either within the party or the government, when Karunanidhi was chief minister and he himself went on to become the deputy chief minister, one rung at a time over the past four-plus decades.
Having possibly learnt his lessons from Karunanidhi's out-of-turn promotion of older half-brother Mu Ka Muthu as a failed challenge to MGR in the Tamil film industry of the early Seventies, when he himself was in his twenties and was learning the ropes in politics, Stalin has maintained a low-profile and yet inched cautiously and carefully towards his ultimate goal, one cautious step after another.
Stalin's progress at times has been affected by the vagaries of family politics, which saw him pitted against late cousin, 'Murasoli' Maran, the latter's son, Dayanidhi, brother Alagiri and sister Kanimozhi.
He won some, he lost some, he gave some, he took some. On other occasions, the vagaries of electoral politics ensured that the DMK itself was out of power for years, and his ambitions and goals had to wait -- but had to be sustained through continuous and consistent hard work.
To Stalin, along with father Karunanidhi, should go the shared credit of keeping the party and party machinery intact through the 10-year-long vanvas when MGR ruled the roost as chief minister (1977-87), preceded by two years of emergency (1975-77), and later, after the unprecedented electoral drubbing for the DMK in the aftermath of the 'Rajiv Gandhi assassination' in 1991.
This continuity, coupled with the accompanying commitment, has ensured that he has his men all across the party organisation and the party is now with him, but only after the unflinching loyalty to Karunanidhi.
Today, Stalin controls the DMK general council, through systematic working with cadres at all levels. His continuance as the second-in-command for long -- first, in the making and later in control -- has meant that generations that he had promoted at the lower-levels across the state too had reached a saturation-point, beyond which they could not but allow another layer of second, third and fourth generation leaders grow under their feet, at times overcrowding them.
In a way, it keeps the DMK divided at all levels at all times. Otherwise, it keeps the DMK in the news all the time. It also keeps the party fighting fit, too, as the second-line leaders have anyway been fighting one another all the time but are more than eager to prove their greater usefulness and loyalty to the twin-leadership of Karunanidhi and Stalin at the top.
(N Sathiya Moorthy, veteran journalist and political analyst, is director, Chennai Chapter of the Observer Research Foundation).